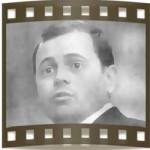 On the morning of September 1, 2009, Organizing for America (an offshoot of the Democratic National Committee and President Barack Obama) held a pro-Government-run Health Care rally in the parking lot outside of Congressman Tom Perriello's Charlottesville, Virginia office.
The gathering was attended by approximately 100 local citizens (with roughly 60% of those present favoring socialized medicine) and several event managers with clipboards, who appeared to be paid OFA organizers.
Signage was in abundance among the crowd, with many Democrats holding pre-printed "Standing Together for Health" signboards, which contained printed attribution that they were paid for and authorized by the DNC.
After receiving criticism for using pre-printed signs at previous events, a few socialized medicine supporters also held hand-drawn plackards (although these all appeared to be "drawn" by the same hand and then "distributed" at the event).
(The September 1, OFA hand-drawn signs appeared very similar to those on display at Charlottesville High School during Tom Perriello's August 11, 2009 "Tom in your Town" event.)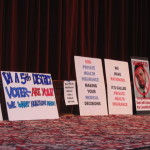 Organizing for America event handlers were overheard asking conservative protesters to move away from the OFA "area" in the parking lot and to "lower" their signs.
"Betty," a conservative, local senior citizen, attempted an extemporaneous speech from Congressman Perriello's steps, but was shouted down by OFA supporters. Shortly thereafter, an OFA-friendly orator took the steps as like-minded attendees, who moments earlier were verbally drowning the previous speaker, quieted the crowd so that his pro-Government-run health care prelection could be heard.
One OFA-aligned man was heard refuting conservatives' concerns that State-run health care was not in the Constitution, by stating, "No, it's in the Ten Commandments: 'Love your neighbor.'" (see video below).
Conservative pleas to follow Jeffersonian principles were met with liberal replies that, "Jefferson's not here!"
Upon the rally's conclusion, Perriello's office doors were opened to "members" of Organizing for America, because, they "had an appointment." Dissenters who attempted to enter the building were physically blocked by Charlottesville Democrat City Council Candidate, Kristin Szakos, who was checking "credentials" of all who entered.
While OFA-approved citizens filed into Congressman Perriello's office for their scheduled "meeting", a woman emerged from the office and admonished the (conservative) crowd remainder that they were blocking the parking lot and causing access problems for customers of businesses located in the same complex.
Sensing that this was perhaps a precursor to another police call, most of the remaining counter-protesters left the location.
See the video:
httpv://www.youtube.com/watch?v=xqdq7f7blHU
View exclusive pictures: