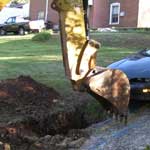 In this exclusive Schilling Show video, Louis Schultz resident of Market Street in Charlottesville, Virginia, is arrested while defending his private property rights.
Prior to his arrest, Mr. Schultz had moved his car into position to block an unauthorized city work vehicle that was on his property without permission.
Mr. Schultz subsequently was charged with a Class 5 Felony (assault) and was jailed. A bail hearing is set for Friday, April 30 at 10:00 AM.
Updates will be posted upon availability.