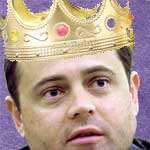 The Rutherford Institute, yesterday, strongly condemned Congressman Tom Perriello's Town Hall "sign-ban" as "an act of outright censorship" that comes "at the expense of his constituents' First Amendment rights to freedom of expression."
Within hours of Rutherford releasing their statement along with a letter (which threatened legal action) sent to directly to "King Tom" Perriello, the Congressman reluctantly rolled.
Though relenting in word, Democrat Perriello, through staff mouthpiece Michael Kelly, arrogantly reiterated his opposition to constituents bringing signs into these taxpayer-funded campaign rallies:
"Going forward, we will suggest that folks refrain from bringing signs inside to encourage an atmosphere of civility and discussion, rather than spectacle," Kelly said. "We will not prevent folks from bringing a sign if they choose to, but we will ask them to be considerate and respectful of other constituents' time and comfort."
Andrew Breitbart—who initiated his own coverage upon notification of The Schilling Show's original post—revealed a previously unknown link between "King Tom" Perriello's sign-ban policy and the Service Employees International Union (SEIU):
Banning political signs is a tactic first recommended last year by Health Care for Americans Now (HCAN) a front group for the SEIU. Their instructions to Democratic lawmakers and their union allies read: "Another way to limit protesters' ability to hijack your event is to confiscate signs or leaflets that they may bring into the venue from outside. The best way to do this is to make a blanket rule that no one can bring signs or leaflets and to advertise this fact as you do turn out in the weeks preceding the event. You can distribute your own signs in the event and offer them one as they enter if you choose to allow them to enter."
Noteworthy is the fact that SEIU is a major Perriello supporter, directly having bankrolled the Congressman's destructive Marxist agenda to the tune of $15,250—and indirectly for likely hundreds of thousands more via television, Internet, and other pro-Perriello advertising.
Perriello's close affiliation with SEIU, a group often accused of thuggery, is another cause for concern, and one for which the Congressman should be made to answer.
See SEIU's television commercial thanking Democrat Tom Perriello for voting "yes" on nationalized medicine in America:
httpv://www.youtube.com/watch?v=eQ2xHogjSkc