To The New Conservatives (Thoughts to consider for saving this last bastion of freedom)
By Hank Martin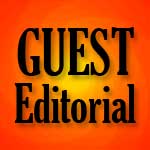 With the explosion of the TEA Party movement, and all of the other movements that have appeared on the political landscape in the last two years, there exists a temptation to desire and wish for, a viable third party movement. I myself have been less than impressed on occasion, as to who and what we have been presented with, in regards to the choice of who we have to represent us, and to be the voice of "We the People." That having been said, it is unfortunately a simple fact of life, the current American system is a two-party system. Long ago, both the Republican and Democratic parties created and designed a system that by its very nature precludes the possibility of a third party becoming victorious in a national election. Sure, third party candidates can and have won elections in local and state competitions, but the notion of having a TEA Party candidate or any other non-Republican or non-Democratic candidate win the oval office is just not a realistic expectation. As effective as third parties have been, they simply lack the resources of finances, volunteers and time. Without which, you lack the capacity to obtain all of the minimum number of signatures in each state, in order to qualify in every state, much less overcome the obstacle presented by the Electoral College. So, as wonderful as it no doubt would be, thinking in terms of an alternative to the two primary and established parties, is neither logical nor realistic.
That having been stated, what is the alternative? Simple really. The energy of the various grass roots movements need to be focused on changing the existing parties. Now, we know that the only possible party that we can hope to effect change to, in order to make it work for "We the People" is the Republican Party. Obviously, the liberal Democratic Party is simply too far gone to ever be able to properly represent the many of the once silent majority of Americans. So what has to happen? How can the Republican Party find itself again, and be a strong advocate for those conservative principles that Ronald Reagan championed? As Reagan himself once stated, the problems may be complex, but the solutions are relatively simple, if we are wise enough to apply them. So what then am I suggesting? What could I, a forty-seven year old "commoner" or member of the "multiple masses" out here in flyover country possibly contribute in the way of ideas? Well, what this recession has taught me is that when you strip away all of the hype and labels and ideology from folks, you have what you have always had. What God himself commenced in the beginning of all of human kind in the Garden of Eden? You have mothers and fathers struggling together, trying to survive in this world, and to provide for their children the love and provision of material needs in order to live. If that one point alone could be accentuated, then the Republican Party could easily find itself growing in members. But first things first. Let's address the eight hundred pound elephant in the room, (pun intended) that no one seems able or willing to talk about: the apparent inability of the Republican Party to reach and attract minority voters. In many conversations I have had with fellow conservatives, they simply cannot fathom this paradox. After all, the Republican Party was established in 1854 as the antislavery party, and it was the Republican Party that delivered the legislation and the votes required to make The Civil Rights Act of 1954 a reality, which despite Democratic obfuscation, was signed by President Johnson. One of the attributes of growing up as a bookworm, you stumble across historical nuggets that most everyone else either forgets, or is simply not taught. One of those nuggets is the fact that the KKK was the domestic terrorist arm of the Democratic Party, and that it was the Republican Enforcement Acts of 1870 and 1871, that allowed for a method to reign in the KKK violence. It is also interesting to note, that the NAACP was founded by the Republican Party on Feb 12, 1909, the 100th birthday of Lincoln. So how is it then that despite the pioneering ways that the Republican Party forged freedom for African-Americans, they so willingly give allegiance to the very party that sought to prevent them from acquiring the civil rights they now enjoy? You can thank President Herbert Hoover and his mistake during the 1927 Mississippi Flood. The flood covered some 27,000 square miles of land, destroyed crops and fields, and killed more than two hundred people. It also displaced more than 700,000 individuals, nearly half of whom were African-American. Herbert Hoover was in charge of relief operations during this crisis. Unfortunately, many of the African-Americans who were living at the established relief camps were mistreated. Hoover, with his eye on the oval office, suppressed the stories of abuse, by negotiating with Tuskegee Institute President Robert Morton, promising him that if elected president, he would give special attention to the needs of those displaced in the relief camps. Morton did not organize opposition to Hoover, and when elected president, Hoover broke his promise. Morton then made it known how the Republicans had betrayed the African-American people, and FDR freely accepted their votes in protest in 1932, and the Democratic party has been accepting them ever since.
Perhaps the most logical and sound course of action is the Biblically mandated notion of forgiveness. The Republican Party must acknowledge the sins of its past, and seek forgiveness for it, conversely, it must extend to the African-Community its forgiveness for their present situation. One that finds the African-American family in ruins, thanks to well meaning but ill implemented policies of the liberal left over the years. In this current crisis, we can no longer fall for the divisive speech that attempts to continue to stir up racial tensions amongst the people. Yes, all of our ancestors got here in ships. Some ships separated in time by a few generations. That is of little consequence, as we are all in the same boat now. We all want a prosperous and promising future for our children, to achieve that, we need each other.
This same philosophy can be applied to the Hispanic Community as well. Who is the most opposed to granting amnesty to illegal aliens? Who is the strongest supporter of border enforcement and immigration enforcement reform? Those Hispanics who have entered this country the correct and legal way. Conservatives need not have yet another Herbert Hoover moment and address this issue boldly and directly. It would also behoove conservatives to have a presence in these communities regularly, and not just at election time. Like the old adage states, "They don't care what you know, until they know how much you care."
Another issue that creates much division amongst conservatives is the issue of abortion. Undoubtedly as much a powder keg issue for our time, as slavery was in times past. It seems that the manner in which we are going about attempting to solve this problem is doing more harm than good. Before I continue, let me state unequivocally, that I am absolutely and utterly opposed to abortion. It offends me as a Christian. It offends me as a human being, and is an affront to mankind. However, when we recognize that abortion is an industry, albeit a bloody one, it is an industry nonetheless. It would not exist, if there were not a need for it. I think it necessary to reevaluate our approach to this heart wrenching issue. I can recall being summoned before the elders of a church that I was attending at the time. They expressed their concerns over my apparent lack of zeal in protesting the local abortion clinic. At that time, it was located up on Pantops Mountain here in Charlottesville. I explained to them that I did not agree with their tactics. In the first place, I knew myself well enough to know that if I were to be manhandled during a "peaceful" protest, as I had witnessed them being handled on the news, I seriously doubt that I would have been able to be so docile. Therefore, while they were at home eating chicken and biscuits, and marveling at their bravery, I would still be in lock-up looking for bail money. Secondly, it seemed to me that we are letting the males off pretty easy with the manner in which the young women are forced to bear the brunt of circumstances alone, through an act that required the participation of two people to create. Where was the push amongst these men to require accountability from the young men that had gotten these young women into this situation in the first place? Thirdly, where was the compassion? The Christ that I know and follow meets people where they are in life. To the woman at the well, his final words were "Go and sin no more." It was not hollering and yelling "Adulteress". That resolved nothing. Likewise, what good was it doing, and how was it advancing any good cause, to stand out front of the clinic, armed with signs, forcing young women to run the gauntlet of signs and accusations of "baby killer". I've no doubt that by the time a woman gets to the front door of an abortion clinic; it is the final act of desperation. No doubt her family has abandoned her, as well as the young man who contributed his share of the DNA to make the birth possible. How was further traumatizing the woman going to help?
I countered with the argument, that every man in that room, had room in his homesto take in an unwed mother. I submitted that perhaps the cause would be greatly advanced, if a young woman could be given the choice of being taken in, her physical and financial needs met until her child was born and could be adopted. Needless to say, this was not the "rolled up sleeves, hands-on" solution that they wanted to hear. Far easier to just yell and feel proud. So what am I trying to convey in relating that story? Let the statistics speak for themselves. According to Operation Rescue, recent data reveals that out of all the abortions performed, Protestants made up 42% of all abortions. Catholics made up 27%. So 69% of all abortions are made up of supposedly Christian teens. I can't help but to wonder if there were more compassion and forgiveness amongst the families that consider themselves Christian, the abortion industry would be out of business without all of the acrimony and political wrangling currently associated with the issue? So while I am not saying that this issue is not important, I am saying that we can not hang our hats on just this one issue. We have to acknowledge that a lot of the responsibility for this issue begins at home, around the dinner table. It is simply not realistic to think that this battle can be won in the capital building or the sate houses alone. A proper context must be kept, and unity of matters such as freedom and constitutionality held paramount.
Lastly, nobody wants to be a part of a negative experience. I recall going on a field trip in middle school. The lead teacher assembled all of us together in front of the Quick's buses and started telling us all what we can't do and won't be doing on the trip. By the time she had finished, none of us wanted to get on the buses. Why? She had covered every issue and topic so well, that we all would have just as preferred to stay at school, where we knew we could do some things. Conservatives tend to easily espouse what they are against, but have a more difficult time espousing what they are in favor of. I was engaged in conversation with a conservative once; he stopped and asked me what was wrong. I explained to him that the manner in which he is putting forth his stance on issues, made me feel as if I was having simultaneously, a root canal and a vasectomy, both without the benefit of anesthesia! When asked what a conservative is in favor of, the list should be quick to repeat:
Freedom!!!
Increased prosperity through reduction in government.
Budget Control through either line item veto, or repealing the 1974 Congressional Budget and Impoundment Control Act.
Improving Education by returning control to local and state authorities.
Abolition of congressional earmarks.
Immediate drilling into known natural gas and oil reserves in the U.S.
Immediate fast tracking of designing and construction of nuclear reactors.
Legislative reform-No minutely overwritten bills that require passage to be read and understood.
Immigration reform-known illegals deported.
Secure Borders.
Pick two or three issues and go from there. Remember, Reagan entered office with three things on his agenda: topple communism, reduce the size of government, and lower taxes. Many of us have seen the past, and it worked. It can work again. But the conservative mindset has got to be expanded somewhat, or else, we'll see the tremendous gains garnered so far, laid waste. If that happens, we may indeed never again have the opportunity to fight for freedom.