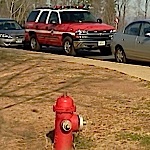 It's happened again. And again. And again. Less than 90 days after The Schilling Show reported dangerous and ongoing parking violations at Albemarle High School (AHS), the problem persists.
The latest pictures, taken in January and February by Schilling Show contributor Jorge Brooks, Jr., show cars lining yellow-curbed emergency-vehicle access areas, blocking clearly marked fire lanes, and parking adjacent to fire hydrants on AHS grounds during various sports-related events. One picture displays an official Albemarle County Fire Command vehicle parked amidst other transgressors in a signed NO PARKING zone.
Responding to our previous coverage of these ongoing offenses, Albemarle County Schools' Communications Officer, Phil Giaramita, indicated that AHS principal Jay Thomas had been notified of the problem, as had the local fire marshal. Apparently, the designated recipients in school and county administration did not receive the message clearly as these alarming parking illegalities continue.
See the latest parking violations at Albemarle High School: