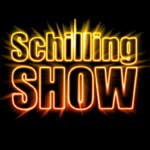 Courtesy of The Blue Spade, aka, Scott Bandy, following are the lyrics to his latest parody, Save UVa, a song about Teresa Sullivan, Helen Dragas and the University of Virginia's recent dismissal/reinstatement debacle.
Sung to the tune of the Beatles' version of "Till There Was You," the serenade was delivered live on The Schilling Show, July 11, 2012.
Click below to hear an audio recording of Scott Bandy's masterful, heartfelt performance.
[audio:https://www.schillingshow.com/wp-content/uploads/2012/07/Scott-Bandy-UVA-Parody.mp3]
With apologies to the Beatles (and UVa):
Save UVa

There was hell on the lawn
by the rest who saw imploring
yes, the rest who saw dumbfound
save UVa

There was *Teres Sullivan for the rest who'd be outpouring
yes, the rest who'd be dumbfound
save UVa

Then Intercession and Reinstatement
the informed class learn by blog
Dragas stays and a BOV upgrade

There was honor worn on sleeves
for the rest who were ignoring
yes, the rest who were dumbfound
save UVa

Then Intercession and Reinstatement
the informed class learn by blog
Dragas stays and a BOV upgrade

There was honor worn on sleeves
for the rest who were ignoring
yes, the rest who were dumbfound
save UVa
save UVa

(Cavs!) Cha Cha Cha

[* pronounce: Ter·rez Sull·i·vawn]