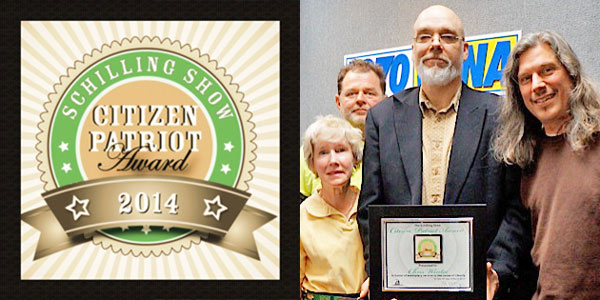 Chris Winter is the 3rd annual awardee of The Schilling Show Citizen Patriot Award, presented for exemplary service to the cause of liberty.
Mr. Winter is a dedicated father, a talented musician, a full-time taxi driver, and a political activist. His public outreach through local, national, and social media outlets has raised awareness of constitutional and faith issues in Charlottesville, Albemarle County, and beyond. Routinely blacklisted by local progressives in positions of power, Mr. Winter has remained steadfast in his beliefs, even suffering financial hardship as a result of his outspokenness.
"There is no one more deserving of this honor than Chris Winter," said Schilling Show host, Rob Schilling. "Chris's tireless efforts on behalf of liberty, his reasoned approach to disagreement, and his steadfast support of the United States Constitution have made central Virginia a better place."
Previous recipients of The Schilling Show Citizen Patriot Award are Dr. Charles Battig (2012) and Greg Quinn (2013).