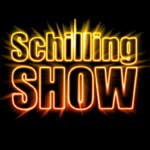 Taxes are on everyone's mind today, but the Schilling Show audience has responded with creative pushback.
This piece, as heard on WINA's The Schilling Show, was inspired by Diantha and the Pickpockets (Albemarle County Board of Supervisors) and the Charlottesville Silly Clowncil (City Council), neither of whom ever met a tax they didn't like.
Performed in the style of the late Dickie Goodman—whose musical montages thrilled several generations—for your enjoyment, here's Singing Susan's brilliant Tax Day montage: Tax Trials and Tribulations.