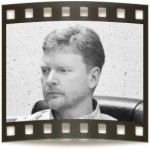 Today's Daily Progress recounts the unusual dual candidacy of 22-year-old Andrew Williams, Charlottesville's first black independent candidate for City Council in decades. Although Williams' name will not appear on the ballot (due to an unanticipated, last-minute lack of valid signatures), a sharp and sincere candidate, he's still a threat to expropriate votes from the Democrat slate of Dave Norris and Kristin Szakos. This peril is particularly germane since there are two other balloted independents in the race: Paul Long and Bob Fenwick.
In addition to his write-in council campaign, Williams has applied to City Council for appointment to the Charlottesville Planning Commission.
Black, independent candidates are hard to come by in Charlottesville. In fact, prior to Williams, the last African American independent City Council candidate was Margaret Cain, way back in 1984.
The paucity of African American independent candidates primarily is due to the Charlottesville Central Party Democrats deal with select black community leaders — a system of patronage, in the words of former Democrat Councilor Meredith Richards — that insures one, and only one black (Democrat) will sit on council at all times. This "deal" has held from 1980 to the present, and the black "establishment" has not been supportive of black independents for fear of discomposing their powerful Democrat co-conspirators.
Independent candidates (especially black independents) scare the tar out of the Charlottesville Democrat elite, and "the Party" works a double shift to discourage all such candidacies.
In 2006, then Mayor, David Brown, attempted to "bribe" independent candidate, Vance High, out of that year's City Council race by offering him a plum city appointment. High's response: "Hell no."
Upon learning of William's candidacy, Williams was contacted by current Charlottesville Mayor Dave Norris (who is, in his run for re-election, opposing Williams) and asked in a semi-confrontational fashion why Williams was not "running as a Democrat." Following that question, there was further back and forth about boards and commissions.
Now that Williams has applied for the Planning Commission, Norris and his posse comitatus have a prime opportunity to "kneecap" Williams' Council candidacy by appointing him to the advisory body.
While it would be highly unethical and a blatant conflict of interest for any member of the (all-Democrat) City Council to support Williams' appointment to the PC (because such an appointment would so obviously help fellow Democrats Norris and Szakos secure their seats in the upcoming City Council election), don't believe it can't or won't happen.
Since when was ethics ever a consideration of Charlottesville's Central Party Democrat Machine or its attendant cabal?