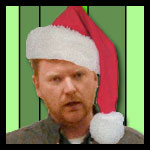 Things are supposed to be "bad" in Charlottesville.
Tenebrous projections for multi-million dollar City budget deficits abound, and Charlottesville City Schools, crying poor, are waiting for the ax to fall as state and local "cuts" loom large.
But despite the doom and gloom expounded by Charlottesville officials, times are good for City employees, whose threadbare stockings were filled with green gold this "holiday" (Christmas), in the form of an unexpected cash bonus!
After discovering that Charlottesville's coffers again overfloweth, this time with a $5.3 million year-end surplus, City Manager Gary"Golden Parachute" O'Connell and Mayor Dave "Norris-Claus" Norris quickly conspired to rid themselves of the PR problems appurtenant to excess funds, in what is reputed to be a time of economic tribulation for our World Class City.
At the December 7, 2009 Charlottesville City Council meeting, millions of superfluous dollars were quietly and unanimously disposed of by Norris-Claus and his holiday elves under the moniker, "FY 2009 End of Year Adjustments."Among other items:
$1 million in surplus was shuffled into "Capital Projects"
$50 thousand was dumped into City Council's play-money slush fund aka"Priority Initiatives"
$70 thousand was bestowed to Community Attention for the purchase of two vehicles and some fingerprinting equipment
$250 thousand was hidden in a so-called "City Reserve"
And the list goes on…
Disregarding the fact that these "surplus" funds were unjustly derived from taxpayers' labor and justly should be returned to their pockets, insultingly, the City fathers will not reinstate a single cent to its rightful owner.
But perhaps the most egregious affront to Charlottesville taxpayers was this hidden gem (proposed expenditure) tucked away in a November 19, 2009 Memo to City Council from Finance Director, Bernard Wray, and Director of Budget and Performance Management, Leslie Beauregard:
Employee Compensation and Benefits – $625,000 These funds will be used to fund a one-time $750 payment to City Employees who have been employed for at least a year as of November 1, 2009. There are also funds included in this amount to transfer to those other funds that can not cover the bonus payments out of existing funds. Those funds will only be transferred as deemed necessary by the Budget Director and will be automatically deemed appropriated in those funds receiving the transfer. [sic]
Although not delineated in publicly distributed agenda materials, Charlottesville City spokesman, Ric Barrick further annotated the disposal of $625 thousand taxpayer dollars in a communication to NBC 29's Henry Graff:
EMPLOYEE APPRECIATION PAYMENTS

A TOTAL OF 904 EMPLOYEES RECEIVED THE EMPLOYEE APPRECIATION PAYMENTS BASED ON WHEN THEY WERE HIRED THE FOLLOWING GROSS AMOUNTS WERE PAID.

EMPLOYED 1 YEAR AS OF 11-1-09
$750.00

EMPLOYED BETWEEN NOV. 1, 2008 – FEB. 28, 2009
$562.50

EMPLOYED BETWEEN MARCH 1, 2009 – JUNE 30, 2009
$375.00

EMPLOYED BETWEEN JULY 1, 2009- OCT. 31, 2009
$187.50

PERMANENT PART TIME EMPLOYEES RECEIVED REDUCED AMOUNTS FOR LESS THAN 40 HOURS A WEEK EMPLOYMENT.

THE PAYMENTS WERE MADE BY DIRECT DEPOSIT ON DECEMBER 11, 2009.

EMPLOYEES HIRED AFTER OCT. 31, 2009 did not receive appreciation payments.
In this purportedly worst financial crisis since the Great Depression, Charlottesville City employees—with secure employment, overly generous benefits and extraordinary compensation (in relation to the private sector)—are not hurting. Yet, their future votes and ongoing political loyalties are being assured by the "generosity" of the Mayor and the City Manager—albeit using other people's money (OPM).
Charlottesville City taxpayers, however, toil under ever escalating financial duress after years of over-taxation at the hands of a reprehensibly and unabashedly socialist government. News of this exclusive "appreciation bonus" is delivered to and received by hard working Charlottesville taxpayers as another "kick in the pants" from the Democrat City Hall machine.
With five-year accumulated surplus taxpayer dollars exceeding $20 million, O'Connell, Norris, and the City Hall Cabal continue to crow about their prudent fiscal management of Charlottesville's budget.
Don't buy the big lie.
Purile political payoffs to already well-compensated government employees at the expense of a struggling private sector do not a well-run city make. And untold millions of surplus budget dollars do not indicate Governmental fiscal prudence—but rather that City government has fleeced taxpayers for far more than what truly was needed to run Charlottesville.
The next time you hear Mayor Norris-Claus complaining about a lack of funds to educate our children, to remove snow from City streets, or to "help" the "poor," remember his $625 thousand taxpayer-funded City employee payoff. And remember that things were supposed to be "bad" in Charlottesville.
See Rob's comments in the NBC 29 report video:
httpv://www.youtube.com/watch?v=g3y4hW9bPyQ