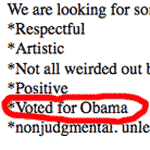 Democrat: the party of tolerance and inclusion? Think again.
Charlottesville is well known as a Democrat machine town. You don't spit into the wind and don't mess around with central party Democrats—that is if you want to do business here.
But, "Republicans need not apply" is a phrase that now goes beyond Charlottesville City Hall and its related dependencies.
A recent "housing" post on Charlottesville Craigslist takes political prejudice to a previously unseen level in both candor and audacity, as a group of nascent neo-Marxists seeking like-minded roomies pre-qualified potential co-tenants as follows:
Hi!
My roommate and I are looking for 2 housemates to share a house in Fry Springs (JPA). Available August 9.
We are looking for someone who shares our values:
*Respectful
*Artistic
*Not all weirded out by vegetarianism.
*Positive
*Voted for Obama
*nonjudgmental. unless you didn't vote for Obama.
In spite of Craigslist's ultra-conspicuous housing non-discrimination admonitions, this "non-judgmental(!)" group felt safe in blatantly contradistinguishing any potential roommate who did not vote for Barack Obama. Of course, the Piedmont Housing Alliance, Legal Aid Justice Center, United States Department of Justice and other so-called "fair housing" advocacy organizations will not pursue this potential violation because it does not involve discrimination toward a sympathetic group.
But just imagine if the ad read: "Apartment for rent, Obama-voting Democrats not welcome." The long arm of the law and the heavy hand of public outrage would certainly have befallen the hapless conservative poster.
Political bigotry reigns supreme in the tolerance capital of the American South. And in Charlottesville, as on Animal Farm, all people may be equal, but some (i.e. Democrats) are more equal than others.
Read the actual ad: