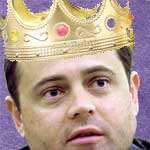 Last week, The Schilling Show exclusively broke a story which eventually went national: Democrat Congressman Tom Perriello says, "Fire Geithner!"
It's obvious that the "embattled" congressman did not intend for his remarks to extend beyond the Ruckersville Town Hall at which they were infamously uttered. Otherwise, Perriello would have issued his own press release on the subject rather than waiting for the Jefferson Area Tea Party (JATP) to do so.
While "Truthful Tom" hoped the whole incident would evaporate into the digital ether, instead it was intensified at last Thursday's JATP Q & A session with the boy Congressman.
In this exclusive video, produced by Perriello Watch's Keith Drake, JATP Chair, Carole Thorpe beckons and receives commitment from Tom Perriello, to make an "official statement" regarding Geithner's firing.
Will Tom Perriello keep his word?
See Perriello's promise to Carole Thorpe:
httpv://www.youtube.com/watch?v=fKu01l_b-hI