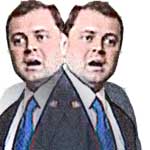 If you read the September 19, 2010 Daily Progress, you might be convinced that embattled Democrat Congressman Tom Perriello (VA-05) is standing by his man—President Obama—through thick and through thin, in good times and in bad, in sickness and in health.
Writer, Ray Reed, portrays Perriello as a loyal and steadfast foot soldier, marching in lock step with the Obama-Pelosi agenda:
Perriello, unlike at least three congressional Democrats in Virginia, refuses to break ranks with President Barack Obama and House Speaker Nancy Pelosi.
The writer goes on to describe Perriello's "unflinching" appearance at a recent taxpayer funded town hall (campaign) event:
As a freshman congressman seeking re-election, Perriello faced both friendly and unfriendly voters in a town-hall meeting Monday that couldn't officially be called a campaign event.

He talked unflinchingly for an hour and a half about health care, cap-and-trade, and his votes for them, and other issues supported by Democratic leaders in Washington.
Two-Faced Tom, confronted by a concerned supporter of the National (Periello-Pelosi-Obama) Democrat agenda, refused to deny his President:
When a woman asked Perriello at the Bedford town hall meeting whether his attack ads suggested he was abandoning his record and his base of support, the candidate didn't back off.
Recent national media accounts have suggested that the Democrat establishment was preparing to throw Tom Perriello under the campaign bus, declaring his flailing re-election campaign a lost cause, but in Reed's story, a Democrat party-boss refutes that allegation:
On Wednesday, Rep. Chris Van Hollen, D-Md., said, "Republican operatives want you to believe that Democratic congressional leaders have abandoned Tom Perriello. Nothing could be further from the truth.

"As head of the Democratic Congressional Campaign Committee, I'm here to tell you that we support Tom now more than ever," Van Hollen said after House Democrats held their weekly meeting on Wednesday.
Van Hollen may well speak the truth, but both he and Ray Reed seem to have missed "Two-Faced Tom's" remarkable ability to change colors depending on his surroundings. The boy congressman is a deceptively adept political chameleon, and in broad public venues, he's running away from his Democrat "team" faster than Lot fled the destruction of Sodom and Gomorrah.
In his first major radio campaign of this election cycle, Perriello has saturated the airwaves with a commercial (listen below) emphasizing Tom's "independence" from the "Pelosi-Obama" agenda:
(Actor 1) So I was watching' the news, and they were talking about congressmen who vote like independents.

(Actor 2) Really.

(Actor 1) And Tom Perriello's name came up.

(Actor 2) Tom Perriello. What's he ever done but vote in lock step with Obama and Pelosi?
The ad continues by referencing instances of minor (and ultimately inconsequential) votes taken by Perriello, which purport to show his independence from Pelosi's tight leash.
But which of Two-faced Tom's two faces is the real face of Tom Perriello?
The independent Tom Perriello, who boldly has defied his party on many issues? or;
The Pelosi lap-dog Tom Perriello, who proudly has voted time and again for his party and against the people—and will continue to do so if re-elected?
Conspicuously absent from the "independence" radio spot are two of Perriello's most devastating, party-line "yes" votes—Cap and Trade, and Socialized Health Care—both of which provoked vociferous scorn from Perriello's fifth district constituents, who overwhelmingly oppose the Marxist-themed legislation their "representative" supports.
Yet, in Reed's story Perriello made a final vow to defend his highly unpopular "health care" vote in an upcoming television-advertising blitz:
Perriello promised that future TV ads would talk about positive aspects of the health care bill, which he said would preserve Medicare until 2030.
Confused yet? Well, don't be.
In the end, as we weigh the evidence in favor of and against believing either of Two-faced Tom's two contrasting faces, we are left without resolution as to where this Congressman stands, based on his statements.
But his actions are clear. Perriello's robotic allegiance to the Pelosi-Obama machine and their catastrophic collectivist agenda is undisputed truth.
And in spite of his duplicitous wavering, what we can surmise is that Two-faced Tom Perriello is a mendacious, equivocal, untrustworthy and soulless politician who consistently betrays his constituents with a loving embrace followed by a quick, vicious stab in the back.
Beware!
Listen to Perriello's cunningly contradictory radio ad: