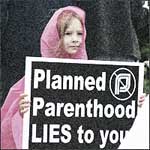 In a communication even more perturbing than that of the "Christian" Democrat who declared, "God is neither pro-choice, nor pro-life," a Charlottesville Presbyterian pastor has made a shocking claim: Decisions to abort a child can be guided by the Holy Spirit.
The clergyman's statement was e-mailed in reaction to a local pro-lifer's narrative of innocent babies' lives spared through peaceful intervention at a Charlottesville abortion clinic:
"…a woman pulled up into the Planned Parenthood parking lot and started yelling at me. At first I thought she was angry with me… but then she told me she wanted to tell me something. She pointed to the backseat of her car and said she had a grandson in a car seat that was alive because people were standing outside of the clinic and she wanted to say 'thank you'.

I ran across the street to the parking lot where my friend was parked to tell him the good news… but God wasn't done!

A week later a young woman pulled off the side of the road to tell me that she too had changed her mind because people were standing outside of the clinic. This time I was prepared and I asked if I could get pictures of her baby so that we could see with our own eyes why we stand."
These inspiring accounts were met with a stark response from the pulpiter:
On Wed, Sep 22, 2010 at 2:55 PM, Pastor Jxxxxx wrote:

Dear xxxxxx,

Please remove me from your e-mail list. While I truly value support given to those who choose not to have an abortion in the face of a difficult and challenging set of circumstances, I also value very highly the right of an individual to have her/his conscience guided by the Holy Spirit. This leads me as a Presbyterian pastor to support the work of organizations such as Planned Parenthood. In fact, I have served on the board of that organization. This does not mean that I am oblivious to the number of abortions carried out in this country. It does mean that I support the work of organizations that attempt to create and maintain safe facilities that afford women a choice at such times.

Thank you for striking me from the list of recipients of your communications.

Pastor Jxxxxx
In addition to his defamatory mischaracterization of the Holy Spirit, the theologically muddled pro-"choice" pastor's dispatch further boasted that he had served on the Planned Parenthood board—an inherently contradictory position for a Bible-believing Christian to assume.
And this lost shepherd, hoping to avoid future encounters with the Truth, twice requested that he be removed from the pro-life mailing list.
There is a desecrating spiritual sickness infecting Charlottesville: darkness promulgated by myriad "marriage rights" churches and pro-abortion pastors, who through false teachings and distorted doctrine are leading their followers progressively down the road to perdition.
But, we were warned:
For they exchanged the truth of God for a lie, and worshiped and served the creature rather than the Creator, who is blessed forever. Amen. (Romans 1:25)
Ignore the Word at your own risk, Pastor J, but remember that intentional deception of the flock is a dangerous path to walk.