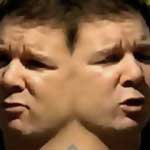 With all of the talk across America about overpaid government employees, we have a prime example of outrageous compensation excess right here in Charlottesville: City Communications Director, Ric Barrick.
Expectations for Charlottesville City employees may be low, but at a salary of $93k per year (plus benefits), grammar-checking for important official dispatches should be included in the job description for "Communications Director."
On October 11, Barrick sent a media release containing the following sentence:
Charlottesville Police is looking for the following suspect in a series of fraud cases in the City. [emphasis added]
Maybe the ninety-three-thousand-dollar man was rushed in disseminating the original information, and this error does not indicate general linguistic incompetence?
Maybe not.
In case there was any doubt about his under-qualification for the job, the next day Barrick followed his first communiqué with a second, even more embarrassing solecism:
We sent this out yesterday but probably didn't give you enough information to consider reportable.  I have authorized to release the following on this suspect: [emphasis added]
and
The picture taken above is the suspect entering the Giant Food store in the county where he uses the victim of the larceny in the city card before she is aware of the theft. [emphasis added]
Say what!
And city taxpayers are paying nearly 100 "large" for this?
Read the full versions of Barrick's grammatically incorrect "all points bulletins":
From: "Barrick, Ric" <BARRICK@charlottesville.org>
Date: October 11, 2010 03:16:18 PM EDT
To: "Barrick, Ric" <BARRICK@charlottesville.org>
Subject: Fw: ID Suspect

Charlottesville Police is looking for the following suspect in a series of fraud cases in the City. Please call Crimestoppers at 977-4000 if you have information.

—– Original Message —–
From: Barrick Communications [mailto:barrickcommunications@adelphia.net]
Sent: Monday, October 11, 2010 03:13 PM
To: Barrick, Ric
Subject: ID Suspect
From: "Barrick, Ric" <BARRICK@charlottesville.org>
Date: October 12, 2010 10:45:48 AM EDT
To: "Barrick, Ric" <BARRICK@charlottesville.org>
Subject: ID Suspect

We sent this out yesterday but probably didn't give you enough
information to consider reportable.  I have authorized to release the
following on this suspect:

This suspect is involved in many larceny cases in the city, mainly using
stolen credit cards obtained at places of business in the City of
Charlottesville.  In one particular case the suspect stole wallets in
the MJH complex and used a victim's wallet and used the victim's credit
cards in the county at various places therefore this will be a
city/county investigation.  The picture taken above is the suspect
entering the Giant Food store in the county where he uses the victim of
the larceny in the city card before she is aware of the theft. Any
information can be called into Crimestoppers at 977-4000 or Sgt. Brake
970-3970