What's at stake—The Importance of the election
by Hank Martin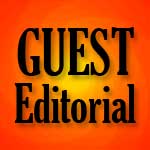 This upcoming election, as are all of the elections to follow in the near future, will be of unprecedented proportions. Any one who knows me, or has ever known me, knows the values to which I have chosen to subscribe. They are apparent in how I have lived my life, in all that I say and write. That having been said, I also know that there is enough blame to go around. The liberal left has taken us on a course that is destructive, and the conservative right has lacked the sufficient courage and cohesion to prevent it. All of this can be analyzed and dissected later. When it is all said and done, the primary concern to me when I enter that voting booth in a few days, and the question that I will most be burdened with is this; what type of world do I want my sons to grow up in? When I am dust in the ground, what kind of life do I want to leave behind? My allegiance will not be to any party or ideology. It will not be an emotional nor political nor societal nor ideological statement. As I cast my vote, I will have two things resonating through the recesses of my mind, my two sons, and the legacy of my generation.
As I cast my ballot, I will be soberly cognizant of the $12 trillion dollar national debt. Of the current unfunded liability for Medicare Part A in the amount of  $36.7 trillion dollars. The current unfunded liability for Medicare Part B in the amount of $37 trillion dollars, and for part D in the amount of $ 15.6 trillion dollars, which, when added to the unfunded liability of Social Security gives will give us a deficit of approximately $118.8 trillion, which translates into a debt equivalent of $1,532,000 for each family of four. I will be aware that by the end of 2009, 50 percent of our debut was held by countries such as China, Japan, the United Kingdom, Oil Exporting Countries, Caribbean Banking Centers, Brazil, Honk Kong and Russia. I will be aware that currently, it is costing one million dollars for every person wearing a uniform, to maintain our national defense. I will be aware that our national debt accrues interest at the rate of $ 41 million an hour, $690,000 a minute, $11,500 per second. I will be acutely cautious that as analysists and commentators toss around the term "trillion" for the first time in history, that if I translated dollars into seconds, and could travel back in time just one trillion seconds, I would find myself 32,000 years in the past!! I will recognize that I, and my American brothers and sisters had our households loose an average of 18 percent of net worth in 2008 alone. That from 2006 through March of 2009, household real estate fell from 21.9 trillion to 17.9 trillion, and from August 2007 to October 2008, an estimated 20 percent, ($ 2 trillion) vanished from American's retirement plans.
As I cast my ballot, I will also be forced to ponder the fact that questions how a government can spend less than 40 percent of its intake on constitutionally mandated duties, and yet, classify it as discretionary? I will contemplate how that same government, which produces nothing, can be growing in this economic climate, to have 2 million employees at the end of 2009, with a projected growth of 15.6 percent by the end of this year? I will also wonder why those same employees are paid salary and benefits far superior to those employees in the private sector.  I will consider all of this and know that there is no simple fix, and no easy answer. I will know that while we did not arrive at this point in a year, a decade or a generation; steps must be taken to find a stopping point. That for the sake of our children, our children's children, and their children, we must pick a point to turn back to the tried and true ways. It will take courage and demand sacrifice, both of which run deep in the blood of our country's historical veins. Our forefathers had to muster the courage to charge the sword, and shot and shell and sacrifice their lives. We must have the courage to charge the anti-nationalist mentality of the politically correct and to be willing to sacrifice a lifestyle of materialism and luxury.
Ronald Reagan once said that America was "the last bastion of freedom left on planet earth." I wonder when our children's children examine our actions in this historic time; will they see the evidence of the same patriotic fervor that our ancestors possessed at Valley Forge? Or will they be compelled to sit in their government assigned shanty, working at their government assigned job, eating their government rationed food and read by the dim light of a government issued lamp powered by a government approved power source, of an unbelievable time long, long ago, when men were free. I hear those chains being forged everyday, don't you? Can you not smell the dark smoke of oppression, billowing from hell's furnace, through the smokestacks of the Whitehouse, and the Capital building? It is floating across this land. A new link of bondage is being hammered out each day. Will we break those chains? Will my children know the freedom I enjoyed? Will yours? Will our grandchildren? We honor the W.W.II generation as the greatest generation. Years from now, how will our generation be regarded? Will it be with love and honor, or resentment? I know the choice I will make. What is yours?