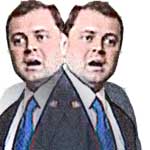 Hot on the heels of the Veterans of Foreign Wars moving to dissolve the affiliated VFW-PAC that endorsed him, there is another endorsement-related embarrassment surrounding Tom Perriello's crumbling political career: the Virginia Association of Realtor's Political Action Committee (RPAC) uniquely has shunned the embattled Democrat in their 2010 Congressional endorsement process.
In ten of Virginia's 11 congressional districts, RPAC has endorsed the incumbent (five Democrats and five Republicans). The endorsees represent a broad swath of the political spectrum, from liberal to conservative and all points in-between.
Conspicuously absent from RPAC's congressional candidate "A" list is incumbent Congressman Tom Perriello. In fact, Virginia's 5th District is not even referenced in the RPAC media release.
An inquiry as to the nature of the curious omission yielded the following response from the Virginia Association of Realtors:
In Congressional races, our statewide association gives much deference to local associations of Realtors, and that was the case for associations within the Fifth Congressional District.  While both candidates have received Realtor support separately, Congressman Perriello for his primary race, and Senator Hurt for General Assembly races, there was not a clear consensus for the General Election.  Accordingly, our RPAC (Realtors Political Action Committee) Trustees declined to forward a recommendation for that race.

I hope this information is helpful to you.

Best regards,

Jay DeBoer • Vice President of Law and Policy
Virginia Association of REALTORS®
Note that in every other Virginia Congressional District, local Realtor Associations had no problem obtaining consensus: incumbents were supported, period. Unanimous backing of incumbents was the case in RPAC's 2008 endorsements, as well.
On what basis were these endorsements made?
According to RPAC, on one consideration: the candidates' voting record on real estate and property issues.
So, what does it say about Democrat Congressman Tom Perriello that local Realtor Associations would not support his bid for reelection while corresponding regional groups supported every other incumbent Virginia Representative?
Everything you need to know. Tom Perriello, for all of his artful pandering and feline duplicity, was unable to hoodwink the astute Realtors of Virginia's 5th District.
The Schilling Show endorses the collective 5th District Realtor Associations for standing up and refusing to finance a fraud.
See the print version of RPAC's selective endorsement release: