ATTA Questions Compensation Package for County Staff
Total Compensation Appears Generous, Especially Considering Current Economic Environment
by Albemarle Truth in Taxation Alliance / Pete Whitt
We are often told the salaries of county staff are equivalent (or fair, or meager) as compared to other localities and private industry.  ATTA's analysis of county staff total compensation tells a different story.  It suggests many positions / areas of county government are generously compensated and / or staffed when compared to other counties and private industry.
An employees' total compensation (i.e., salary and benefits) must be considered when county government defines and compares its employees' compensation packages.
In the current challenging economic environment, Albemarle County staffing and benefits packages bear closer scrutiny.
Percentage Benefits
Albemarle County reported no increase in average staff salary for the 2010/11 fiscal year from the previous year. But what about staff's total monetary compensation?
The average salary for general government staff (i.e., excluding school division employees) is $52,098. Albemarle reports the "average benefits package is $20,252, for a total of $72,350," or 38.9%.  This figure is an increase from $18,644 (36.2%) of salary just the year before.
Compared to industry standards, nearly 39% in benefits is generous. If Albemarle lowers the benefits package to 30%, and assuming about 576 general government county employees, an annual savings of about $2.7 million results.  On a total county budget of approximately $300 million, this would result in a 1.7-cent decrease on the residential property tax rate.
Growth in Benefits Over Time
How has general government staff's benefit package grown over time? If we compare the 2003/04 fiscal year to the adopted budget for fiscal year 2010/11, county staff grew from 531  employees to 576, an 8.5% increase.
However, Albemarle County employee benefits grew from $5.95 million to $12.75 million, an increase of  114%.  So, benefit growth outpaced staff growth by more than a 13:1 margin.
Health Care Insurance Benefits
Albemarle's 2008 Resource Management Review provided a comprehensive view of how the county utilizes our tax dollars, with numerous comparisons to other counties such as James City County, Hanover County, Stafford County, and Spotsylvania County.  Comparing Albemarle's health care insurance plan FY 07/08 (the most recent data provided to ATTA by Albemarle County staff) to these counties reveals interesting information:
Albemarle County contributed over 93% of an "Employee Only" plan (i.e., no other family members covered; 41% of county employees choose this option), compared to an average of 85% for the comparison counties, and approximately 60% in private industry.
The cost of Albemarle's Employee Only plan is the highest at $7,128, a figure 31% higher than the average of the comparison counties.
The "Employee and Family" plan is more in line with industry standards, with the employee contributing 40%.  It is notable that Albemarle's Family plan's total cost is 22% less than the comparison counties' average, suggesting there may be opportunity to lower costs in the Employee Only plan.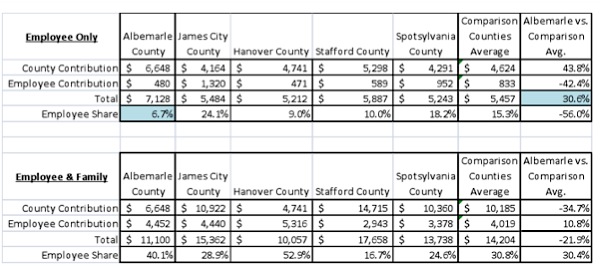 This year, the county's contribution per employee is $7,538, an increase of 13.4% from FY 07/08 due to rising health care insurance costs.  However, the employee contribution remains $480, or a mere 6.0% of the total cost. So while health care costs have increased significantly over the past three years, Albemarle County (and therefore the taxpayers) have picked up the total increase.
A county objective for its health insurance coverage plan is to "maintain our competitive position for benefits at 105% above market." (internal Albemarle email communication, 12/15/2009)  This equates to a benefit slightly more than twice the amount the market is providing the private sector employee.
Maybe a change in this attitude of generosity would result in a more equitable health care cost to county taxpayers.
Now, let's take a look at the staffing and compensation at a couple of departments …
Human Resources — Generously Staffed
The 2010 recommended budget shows about 19 employees in the county Human Resources Department: five managers (4.8 FTEs to be exact) and 14 clerical workers (14.25 FTEs). This department provides services to both the school division and general government.
Human Resources pays its staff a total of $1.49 million annually–let's see how that breaks down:
The five managers are compensated annually at an average package of $130,571 each.
The staffer-to-manager ratio is a mere 3:1, low compared to what is typical in industry.
Benefits in this department are 38.2% of salary. Reducing this benefit percentage to 30% saves almost $89,000 per year–enough for at least one additional school teacher.
In the recommended budget for next fiscal year (FY 11/12), two additional management positions are funded and one clerical position eliminated.  As a result, the staffer-to-manager ratio decreases to 2:1–one manager for every two employees.
How many businesses in the private sector would operate like this?
Community Development — Generously Staffed
The mission of the Department of Community Development is to:
"Create a vision for the future of Albemarle County through a proactive community planning effort that involves all stakeholders in a consensus building process and ensures that all new development reflects the community's vision."
In other words, zoning, planning, inspections and Geographic Information System (GIS).
As one of the county's largest departments, it has quite a few executive managers. Here are the positions and the maximum salary allowed for each (benefits not included):
Director of Community Development ($137,320)
Director of Planning ($119,291)
Director of Zoning  ($111,184)
Director of Inspections ($103,629)
Chief of Planning and Community Development ($96,587)
Chief of Zoning ($83,906)
Chief of Current Development ($96,587)
County Engineer ($96,587)
Principal Planner ($83,906)
Average: ($103,221)
Total Senior Staff  ($928,997)
In contrast, neighboring August County has the following executive managers and maximum salaries:
Director of Community Development ($97,986)
Director of Inspections ($76,593)
Zoning Administrator ($62,864)
County Engineer ($84,445)
Senior Planner ($66,047)
Average: $77,587
Total Senior Staff  $387,935
While there can never be a totally equivalent comparison between two counties, the populations of Albemarle at 95,247 and Augusta at 72,114 are somewhat similar (2009 estimates), as well as the total land area, with Albemarle at 726 square miles and Augusta at 971 square miles.
These data beg the questions:
Why do we have so many more senior community development administrators?
Why are they so highly compensated?
Conclusion
Our county staff does a good job providing services to the citizens of Albemarle. But the harsh reality in our current economy is that taxpayers simply can't afford to maintain the past growth of the generous compensation and benefits county staff enjoys.
Tough times call for tough measures. It's time for county staff to tighten its belt like everyone else has.