Rules are replacing responsibility in government
by Jim Stern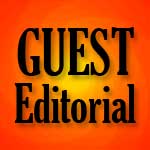 Man has always lived under sets of rules. From the Ten Commandments to the legal code, sporting competitions to board games, in physics and in tax forms, there are rules everywhere guiding our lives.
Deciphering the rules creates knowledge. Early man saw that fire burns, fire cooks, and fire lights; they learned that you can depend on those as fact. Fire burns today and it will burn you again tomorrow—the rule never changes. The ability to determine if a rule was reliable led to early man's survival and so, to us being here today.
I made a living on rules. As a computer programmer or business analyst, in risk management or as a division head, rules make the workplace easier. In IT development a line of code does not think, it does exactly what it is told to do. Computers live in a world with black and white rules.
In the military I wrote Standard Operating Procedures. SOP's allow a process requiring no choices or decisions to be made by staff. If you only give staff keys that fit in the keyhole only one way, then to open the door they must put the key in the slot that one way, the rule must be followed, and in reality they have no choice at all. If things go wrong the writer of the SOP was at fault not those who carried it out.
Some rules are personal, some institutional; some rules come from an even higher authority. The king can proclaim gravity has been banished but no man is powerful enough to change a rule like gravity. We can temporarily overcome gravity but the rule remains. Gravity is a fact.
Man-made rules are not fact; they can be bent, changed or ignored, like the speed limit on roads. It is easy to be misled into thinking man-made rules are fact, but without man these rules will cease to exist unlike factual rules like gravity. When people no longer think for themselves and treat man-made rules as though they are fact it allows people to bypass their responsibility and blame failure on the writer of the SOP.
Man cannot accept any rules blindly and should never take any rule man by man as anything more than accepted by some or all people but never as fact. If we desire freedom we must validate every rule each time it comes into play. Questioning every rule does not mean that man-made rules are not required for the common good.
Complete and unrestrained personal freedom is the complete absence of man-made rules. It is called anarchy.
The absence of personal freedom entirely is when every aspect of life is governed by man-made rules. It is the totalitarian state.
Freedom does depend on a low threshold of tolerance for man-made rules. The old adage is that with freedom comes responsibility. Responsibility requires work, hard work. Sometimes it may be acceptable to lose freedom and allow someone else to make the rules because they will bear responsibility for the consequences of the rule.
The attraction for many to accept a king, a dictator, or a totalitarian state is the fact it is easier to follow rules and not bear the responsibility passed to the rule makers. We learn from birth we must follow rules set by others. If you do not follow the rules we naturally blame the rule maker. How many times have you heard a child say, 'but you didn't tell me I had to…." Then as you grow up you must set your own rules and suffer the consequences if the rules you choose fail you or others around you.
Just as it is with your parents' rules, it is easy to just follow rules set by the state. The danger is when citizens bypass any litmus test and rules set by the state are blindly accepted.
If a large enough portion of the citizenry is willing to accept any rule, even foolish ones, simply to bypass bearing any responsibility for failure, personal freedom is what disappears in exchange for the absolution from responsibility. If the set of rules becomes comprehensive enough you have reached total absolution. You are in a totalitarian state with no choices and only one responsibility: "do what you are told."
At my birth, this great nation was the land of the free and the home of the brave. Now just 52 years later no one is free and few are standing up to demand our freedom back. Few want to bear any responsibility for themselves or others but rather they expect the state to take the weight of responsibility away with a rule.
If I can't bear the responsibility of my children, or my finances, or care for the elderly in my community the government rules that if you cannot or will not bear that responsibility the state will do what ever is required in your stead. You do not need to feel any pain or anguish, no sorrow because you accept the rule.
My father's father lied in order to return to combat duty as a 41-year-old man in 1943. He lied about his age. The officer at the recruiting desk had his file in front of him and after seeing his true birth year and evaluating my grandfather, the officer somehow "lost" the file into a trashcan. He did not follow the rules either.
Both men knew the rules. Both men understood responsibility. They both weighed the situation, considered the rules and bore the responsibility on their shoulders. It was their choice and neither man made the choice lightly. But they knew the ramifications of making a choice to follow or bypass the rules.
If my grandfather had followed the rule set by the state no one would have held him in ill regard, the state rule said he was too old to go into combat on a naval vessel. His responsibility was self-imposed, even though he was absolved by the state.
From 1943 to today something has shifted. There are few left who are true "public servants." Many whose paycheck is taken from the taxpayers have learned to manipulate existing rules and sometimes even create rules in order to shirk responsibility to avoid hard choices. Shirking responsibility by twisting rules takes many different forms in government. Do mind that not all government officials neglect their responsibilities, but those who try to fulfill their duties are overruled when shirkers are in the majority. In the Obamacare sessions of Congress many Democrats learned they could shirk their responsibilities and change the rules for gain, allowing them to extort money and exemptions for their districts in exchange for their vote.
Locally, despite being the gatekeepers to a vault with our money in it, for many years the Albemarle County Board of Supervisors has accepted the rule that 60 percent of new revenue goes to the schools. The rule says we do it, so we no longer have to bear responsibility for the money we hand the school system without scrutiny or even asking the question of how it will be spent.
When following the rules is difficult then shirking duties by ignoring those rules is common. In Virginia the rule says adequate coverage is 1.5 police officers for every 1000 in population. For convenience we just ignored that rule for years in Albemarle County. Now addressing the issue will take five years or more to get back on track.
If not bound to rules by the superior state above us then we can simply make up our own rules, even if illogical and clearly only to shirk responsibility. The School Board says it is their rule not to meddle in the details of the school system and only look at the highest-level information. Their rule to only look at the cover and never inside the book allows them to shirk responsibility if the cover is falsely labeled a romance when the true story inside starts as a comedy then ends as a horror novel.
The most dangerous of all responsibility shirking is now the behavior of the Jefferson-Madison Regional Library officials who are actively shirking responsibility by blindly clinging to outdated rules made by past superiors and do not even consider alternate paths. This will cost Albemarle taxpayers millions of dollars now and hundred of thousands ongoing and if unchecked will be even worse. Blindly following the rule only because the rules sustain their paychecks—yet they are pococurante to the citizens—these bureaucrats will someday demand to be rewarded for their unwavering loyalty. That too will be at citizens' expense.
When the Jefferson-Madison Library Bureaucrats are asked why the proposed Crozet Library is larger than the fire house it is because there is a square footage to population rule. There are no considerations to be weighed as long as they follow the rule. These bureaucrats bear no responsibility if they stick mindlessly to the rule. In truth, the square foot/population rule allows them to protect their fiefdom and have no accountability if things go awry, they can blame the rule.
When asked, "why build in the place where a library is least needed by the population?" The mindless answer: "'because that is the designated growth area." An honest bureaucrat would say: "The rules in place do not require us to consider the needs of the people or any other factor. We have placed the library on this plot because the rules say we shall do so. If you do not like the rule I may not speak with you about the matter, it is above my pay grade. You must discuss this with the rule makers, for I have no responsibility."
Any question requires no thought on their part just a robotic response.
What if there are true library needs elsewhere? Sorry, the rule precludes that as a consideration.
This proposed library of yesterday is obsolete before the ground is broken. Why not build for the future instead of for the past? Sorry the rule says in the past we are doing enough volume to build the library. We cannot open our minds to even considering what will happen in the future.
An honest evaluation of needs is not required because the rules were not made so libraries best serve the citizens but to protect the library fiefdoms. A library in ten years will be as valuable as the US Post Office in ten years. Instead of a Crozet Library I could have gotten the Jefferson-Madison Library bureaucrats to buy the old Crozet video store and tell them of the demand for VHS tapes, 20 years ago.
But your library rules are obsolete. Sorry they are not our rules, they come from the state. Therefore, we do not question the rule; you should not question the rule either.
This abdication of responsibility by government officials who mindlessly take more and more from the real working people with no justification except "we are just following the rules" is nothing short of a glimpse into 1930's Germany.
We must choose right now, at this fork in United States history. Will you follow a path back to freedom or does your path lead to Europe's past?
You may not accept it. But it is your responsibility.