Guest editorial: The perpetual scream for increasing the unskilled wages for reasons of social justice
by Claire Overton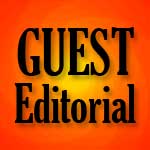 As a friend of Dr. Nelson Lichtenstein ( former UVA Professor, Now at UCLA, union apologist, author of Jimmy Hoffa, The Most Dangerous Man In Detroit et al. and the first " Living Wage Activist " in my experience) I became aware of the movement a decade ago and followed its irrational screams since. A decade ago I asked Nelson why the unskilled, instead of those who rose in the ranks of producers, were constantly rewarded by social justice expounding institutions. He had no answer except it fitted the unionist agenda, it was "fair" and "don't you think THEY need it".  Why THEY, to the exclusion of meritorious producers, were then and now, the sole concern, is a mystery to me.  Class preference seems the only distillation of these talking point phrases used as rapid fire suppression of deeper thoughts and logical extension. As a guest on The Schilling Show, Ms. Emily Filler of UVa Living Wage brought nothing new to the "living wage" discussion. Indeed, she fit the mold precisely as Nelson Lichtenstein exhibited and taught a decade ago.
One question that has gone unexamined with respect to  the perpetual "social justice"  pay increases for beginning workers is, "Why are THEY rewarded with double digit frequent step raises while the higher production, higher service value employees are saddled with almost concomitant pay increase freezes?  It would be interesting to note the increases in starting salaries for unskilled workers versus the ACTUAL PAY RAISES skilled classified staff have received (published scales are useless for mid-level employees because the ranges and duties are so broad they approach meaningless). I believe you will find the producers have not fared as well as the starters.
So it seems the logical extension of Ms. Filler's emotional "social justice" demand is to increase the starters and ignore the producers until each is paid what the scarcely half-learned Ms Filler and her elitist cohorts deem a "living wage."  Mirable dictu! Oh joy! This is precisely the siren song of the wondrous Karl Marx and his minions right through the contemporaneous Noam Chomsky. The words to this ditty are "From each according to his ability; to each according to his need"! I am so delighted that Ms. Filler and her illuminati have finally crowned themselves as the dictators and implementers of Karl Marx commands for the rest of us, ignorant and unwashed as we might be!
I was simultaneously impressed, and duly dismayed, at how glibly the dogma, dictated by a thoroughly inculcated socialist ideology and practiced dialectic, flowed from the guest's tongue in split-second response to any inquiry.  Each talking point was attuned to answer, instantly and forcefully in expression, any question only from its general context. Force in this instance seems to have been taught over substance. One should not be surprised.
I am of course saddened to see incipient civic persons joining, and apparently not unknowingly propagating, the red-sash and SOMA-satisfied Brave New World of Aldous Huxley through adherence to Marx' instructions and DEMANDING, as a true community organizer, we all fall in either goose- or lock-step. I presume that years spent, steeped in institutional socialist indoctrination naturally leads one in this direction.
Watching this kind of ideological devotion to social fascism, I am reminded this is the TRUE BELIEVERS' desired result—rule by the mob, sustained by the producers and enjoyed by the elite, ruling from their semi-supine positions of comfort and privilege, from their velvet dais of the self-proclaimed and self-tenured illuminati. For a more complete description of this model so common now in the United States of America, I simply point the curious to the former Soviet Union from whence a vast flood of this thinking of impotent people and a necessarily all-powerful Nanny State flowed. If one is not convinced of this model I heartily recommend reading at least one treatise on Russian history e.g. The Russian Tragedy: The Burden of History by Hugh Ragsdale.  Read this and weep, because you will see the diminution of individual thought, ability, innovation, freedom and expectations. Meanwhile the STATE rises and fills the gap as the omnipotent, omniscient, omnipresent and omnivorous destroyer of that same humanity, even mankind, the self-appointed social justice administrators claim to be saving us from a world deemed evil in all aspects but their own self-defined, half-cocked, faux altruism.
Hear Emily Filler discuss UVa Living Wage on The Schilling Show, February 29, 2012.