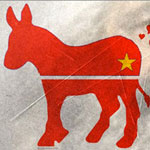 John Douglass— retired United States Air Force Brigadier General and current Democrat candidate for Virginia's 5th Congressional District—embarrassingly lost equanimity at the August 1 Senior Statesmen of Virginia candidate forum, held in Charlottesville. (hear audio file below)
The event's sole candidate-attendee, Douglass was enveloped by a roomful of like-minded senior-Socialists, and was fielding questions from a sympathetic "moderator," radio host, Coy Barefoot.
Apparently emboldened by the room's intellectual conformity, Douglass unhinged when Barefoot directed the conversation to the subject of taxes. Sparked by a moderator reference to Grover Norquist—the president of Americans for Tax Reform—the General flew into an unprovoked rage:
Barefoot: Grover Norquist's pledge, the, uh, regarding the, the tax pledge that you will under no circumstances raise taxes, that uh, an increasing number of Republicans…[have signed]…Your thoughts on that.

Douglass:  Well first, I'm gonna to ask everybody in this audience, you know, 'who the hell is Grover Norquist?' [audience laughter] You know, I mean, isn't that amazing that some right wing jerk like him can, can threaten the very security of this country by goin' around and, and how gullible are these politicians that would sign up to some, uh, jerky Washington guy's uh, phony-baloney pledge? You don't make pledges to guys like him. You know, your pledge is to support and defend the Constitution of the United States of America and the people that it stands for. And that's what our members of Congress should be doing. [audience applause] And uh, you know, um, uh, you know, these guys have gotten us in, and some women, too, have gotten us into these wars that they didn't pay for, okay, and run up the deficit. And, uh, they've kicked the can down the stream, kicked the can down the stream, under this uh, Grover Norquist, uh, pledge. And you know, these Republicans, they're scared to death to call, uh, Grover Norquist names, you know. But, uh, hey, Grover, you wanna record this? I don't give a damn if you, what you think about me, so, uh, you know he's gonna be against me either way, so um, uh, you know. And I just think a pledge to someone like Grover Norquist is obscene, and you'll never catch me doing that.
Virtually unreported by local mainstream media, Douglass' gratutious attack on Norquist stands in stark contrast to fellow Democrat and former Congressional competitor/candidate Peyton Williams' recent call for a 5th District race that promotes "a more polite society," "civil discourse," "respect for others," and "a more respectful society."
Maybe Peyton Williams—himself a retired Army Lieutenant Colonel—should redirect his "civility" memos to General John Douglass, whose unprovoked, psychasthenic outburst may, to the contemplative voter, disqualify Douglass from the powerful position he seeks.
Hear John Douglass' unprovoked attack on Grover Norquist: [audio:https://www.schillingshow.com/wp-content/uploads/2012/08/Norquist-Douglass-full-cut.mp3]