The Schilling Show presents a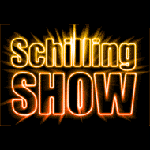 nother masterful musical adaptation by Scott Bandy, aka The Blue Spade. This time, Bandy parodies the late great Western Bypass and the encompassing Democrat-induced political debacle.
A Touch of Graft is sung to the tune of the Grateful Dead's, A Touch of Grey, with lyrics penned by The Blue Spade. This song was performed live on The Schilling Show on Wednesday, March 19, 2014.
Click below to listen to A Touch of Graft:
[audio:https://www.schillingshow.com/wp-content/uploads/2014/03/Scott-Bandy-A-Touch-of-Graft.mp3]
Touch of Graft (in the style of Grateful Dead)
Lyrics by Scott Bandy

Engineering concerns

Viable Express
Environment impact reviewed
So subdued

Historic graveyard kept intact
Just as simple to move road tract
Places Twenty-nine's impact, tact
That's all trite

Why the beguile
Why the beguile
Why the begui-i-ile
Why all the while

Four Joe Issuzu's on a board
Thanks to Bypass Truth in part
minecraft voters get the shaft, but
That's all trite

The quid pro quo has gotten bad
There's only one more thing to add
a shade of pig lipstick that's called, red
Touch of Graft

Why the beguile
Why the beguile
Why the begui-i-ile
Why all the while

Hold your own point of views
the Palmers, and the Sheffields and McKeels
The MPO's
liege coalesce
through blinders see invasiveness
Raise brine extinct to melt road snow
Interchanges on trees don't grow
Leave the driving and don't build roads, but
that's all trite

Build a moat for Locavores
Ken's tried attone for midnight votes
steer 5 to 1 the VDOT funds, but
That's all trite

Why the beguile
Why the beguile
Why the begui-i-ile
Why all the while

One Party's fixed the mix therein
Oh what for shame and so much sin
Stand back and let shagrins begin, but
That's all trite

Oh just a touch of graft
how local lobbys embibe the craft
What's due by May could be revised, yet
that's all trite

Why the beguile
Why the beguile
Why the begui-i-ile
Why all the awhile
Why the beguile
Why the beguile
Why the begui-i-ile
Why all the while