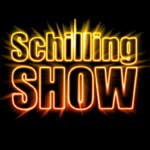 The profligate Albemarle County schools are facing yet another budget problem. As reported in the Daily Progress, Superintendent Pam Moran and her board have squandered nearly $8M in surplus taxpayer money from 2012 through the present.
Now, following the annual Chicken Little budget standoff with the Albemarle County Board of Supervisors, the rebuffed school board is returning for another dip at the taxpayer trough.
In a June 13 email to the Board of Supervisors (excerpted below), Assistant County Executive, Bill Letteri, details the schools' latest attempt to strong-arm Supervisors for more cash:
…the School Board requests the appropriation of three School Division's "self sustaining" funds, or contingencies that are available to the School Division from prior years. These funds include their reserve funds from the E-Rate program, fuel contingencies, and a building services contingency totaling approximately $747,000.  The appropriation of these funds and the School Division's ability to transfer FY 14 expenses to these accounts is anticipated to ensure that the School Division will be able to adequately address the reduction in revenues received from the state during FY 14.

The second request is for the Board of Supervisors to appropriate funds to the School Division to support their extra medical plan contributions in the
current fiscal year associated with UVA's recent decision to not insure their employee's spouses who qualify for coverage through their own employers.  While this mid-year change had some impact to other participants in the County's Health Care fund, the School Division was affected most severely by this unanticipated change. The School Division was required to enroll over 60 additional employees as a result of this action, which required the School Division to provide additional unanticipated contributions to the Health Care fund in the amount of $267,000. On Monday, staff will be recommending the appropriation of General Fund fund balance monies for this unanticipated cost in the current year. [emphasis added]
Still unable to face the dismal economic reality of today's Obamanation and unwilling to publicly  renounce the deleterious side-effects of Obamacare, the Albemarle County School Board and their dear leader, Pam Moran, continue attempts to assuage their responsibilities, instead favoring perpetual tax increases and recurring money grabs.
While the School Board prodigalizes on unrealistic salary increases, unnecessary staff positions, extracurricular programs, extraneous technology, and bloated central administration, taxpayer interests—once again—are being suspended.