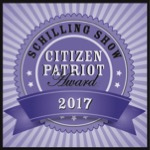 Gary Grant is the 2017 awardee of The Schilling Show Citizen Patriot Award, presented for exemplary service to the cause of liberty.
Mr. Grant is well known to the Charlottesville community through his service as an elected member of the Albemarle County School Board and also as a former WINA radio news reporter.
Over the years, Mr. Grant has kept a steadfast, watchful eye on government spending, procedural issues, and compliance with the Virginia Freedom of Information Act.
"Gary Grant is a true Citizen Patriot," said Schilling Show host, Rob Schilling. "His dogged persistence in pursuit of the truth and his attention to details that others surely would have missed, define Gary's a value to our community." Schilling continued, "He's not afraid to ask the tough questions, but he's always polite when doing so."
The Schilling Show Citizen Patriot Award will be given annually to a noteworthy Citizen Patriot.