by: Agnes Cross-White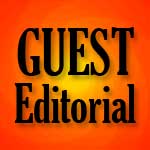 The nation is horrified over the mass shootings, the death and carnage wrought on the citizens of El Paso and Dayton. Everyone is puzzled as to the reason one human being could plot and carry out such heinous crimes against innocent fellow human beings. What could cause one human being to commit such a crime and what can we do to stop these incidents?
As expected, the usual set of political miscreants and pundits are blaming the president, the NRA and calling for rigid gun control, gun confiscation and the repeal of the Second Amendment. These are liberal fixes, bandage remedies for an insidious problem that has seeped into the core of the cultural fabric of the nation.
Each time we have one of these events, we ring our hands and spew out the same old rhetoric. Everyone is feeling the frustration, but doing the wrong thing is worse than doing nothing. We are Americans, and we are a solution-oriented people. There is a solution, but WE may not want to face our culpability in the situation. If we fail, we shall continue to have these incidents and probably with increased frequency and ferocity.
Mental illness, drug addiction and homelessness play a role, but are collateral results of the cumulative effects of the decay and collapse of the American family. That's right, look into the mirror at the real culprits, ourselves, our valueless society, our Godlessness, our lack of integrity. character and our divisiveness.
I would guarantee that someone from generation X or Z will perpetrate another of these hideous events sooner or later. Why? The problem is American children are being reared without a sense of morality, integrity, a sense of patriotism, standards and most of all a belief in Almighty God and the tenets of Christianity which are the foundational blocks that built this nation.
Today's parents and society are woefully negligent in the preparation of today's young people with the skills necessary to cope with the rigors of today's world.
The Bible seems to have become irrelevant in the rearing of children, and the instilling of rules and principles of behavior and conduct. Proverbs 22:6 – "Train up a child in the way he should go: and when he is old, he will not depart from it. Deuteronomy 11:19 – And ye shall teach them your children, speaking of them when thou sittest in thine house, and when thou walkest by the way, when thou liest down, and when thou riseth up."
Children are the future of a nation and it is the responsibility of parents to provide the tools for their growth into productive citizens. Parents are NOT their children's' friends, but rather should concentrate on being PARENTS. Parenting means making the hard decisions. A parent is the caretaker of the future and the best guidebook is the Bible.
Today's children are being bubble-wrapped, protected from failing and discouraged from taking risk. Parents do not exercise discipline for fear of alienating their children and would rather allow them to behave like uncontrollable heathen than to challenge them and exercise authority.
Our children grow up with no respect for themselves, their parents or society. Our children are looking for love, acceptance, security, boundaries and what do we give them, computers, iPhones, drugs and "friendly parents." American parents are so concentrated on providing the "trappings" of American society that we fail to provide the foundational blocks of love of God, family and country.
Many may have not noticed but young people feel lost, unconnected and empty. To fill this gap, many take drugs and engage in unacceptable and dangerous behaviors endeavoring to rid themselves of that feeling of emptiness that pervades their bodies and minds. A sense of self-worth and a longing for relevancy can only be filled by a relationship with our Lord and it is up to parents to guide their children along this path to successful humanness, giving them the tools. Success is not measured in the things one has, but in the person, we are and become.
We as a nation will continue to experience these types of incidents that we had this weekend, if we continue to foist these disenchanted, materialistic, selfish and entitled young people on to society. We need to take control of our children, love them, teach them, and live a righteous life, a life of character and integrity before them, being an example for them. Parenthood is a sacrificial endeavor, not to be undertaken likely.
Parents cannot continue to shirk their responsibilities and look to the politicians or to the schools to provide remedies. We cannot continue to let our young people grow up in a nation where they have no responsibilities, and everything is free and there is no God.
This is a recipe for our destruction:
Breakdown of the family
Removal of God
Decreased human interaction
Increased isolation
Lack of empathy
Increase in mental illness
Cultural irresponsibility
Stop the violence, Be a PARENT!
—Agnes Cross-White is the former publisher of The Tribune, Charlottesville's longest running black-owned newspaper.