Pursuant to a Settlement Agreement reached in Schilling v. JAUNT, Inc.—wherein documents related to executive travel expenses were requested from JAUNT, and initially denied—the Schilling Show has acquired copies of the controversial receipts which led to the forced resignation of former JAUNT CEO, Brad Sheffield.
According to the records received, Sheffield and his colleagues lived the high life, traveling extensively and internationally, enjoying pricey food and drink, and reveling in extraordinarily expensive hotel accommodations.
Transit, apparently, is bigger business than the public has been led to believe.
While much of the information provided is cryptic, a pattern of extravagance is evident.
When renting a vehicle in Atlanta in August 2019, Sheffield chose a Ford Mustang convertible. Not an economy car, by any means.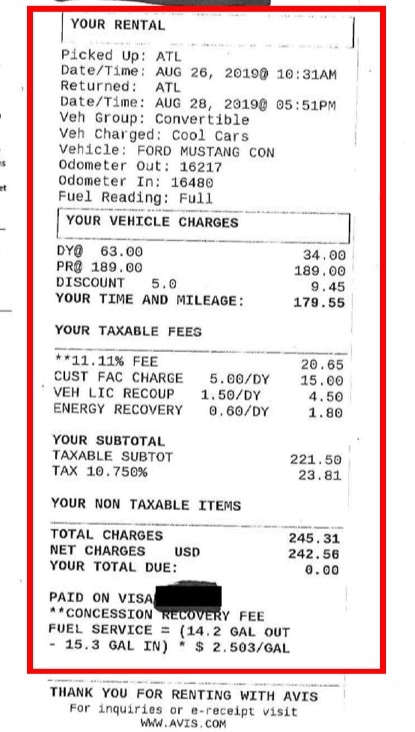 During this same trip, Sheffield stayed at the Ritz-Carlton Atlanta, racking up $1200 for a two-night stay.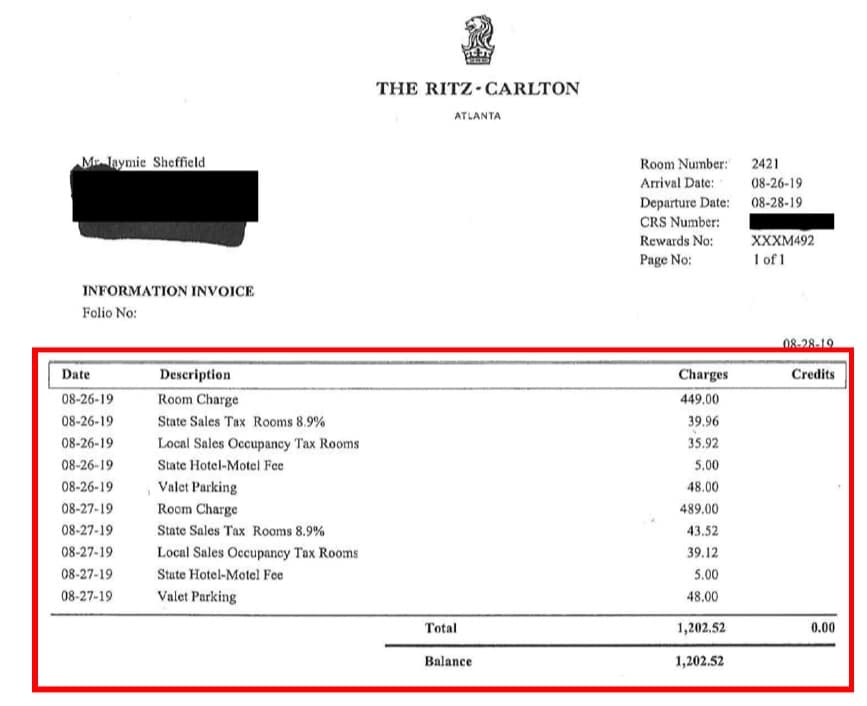 For a subsequent two-night visit to Raleigh in September 2019, Sheffield spent $1750 on lodging at the Cavalier Hotel.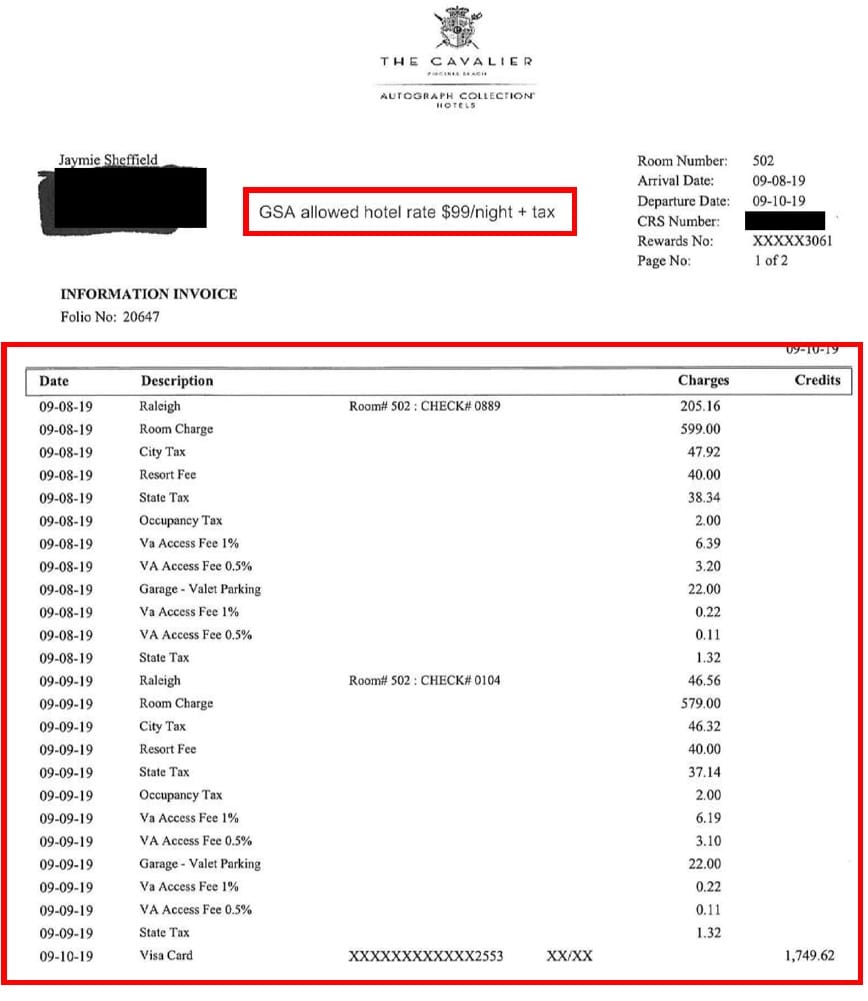 Also in September 2019, Sheffield booked a one-night trip to Columbus, for a total of $1,681, including $1,144 for airfare alone.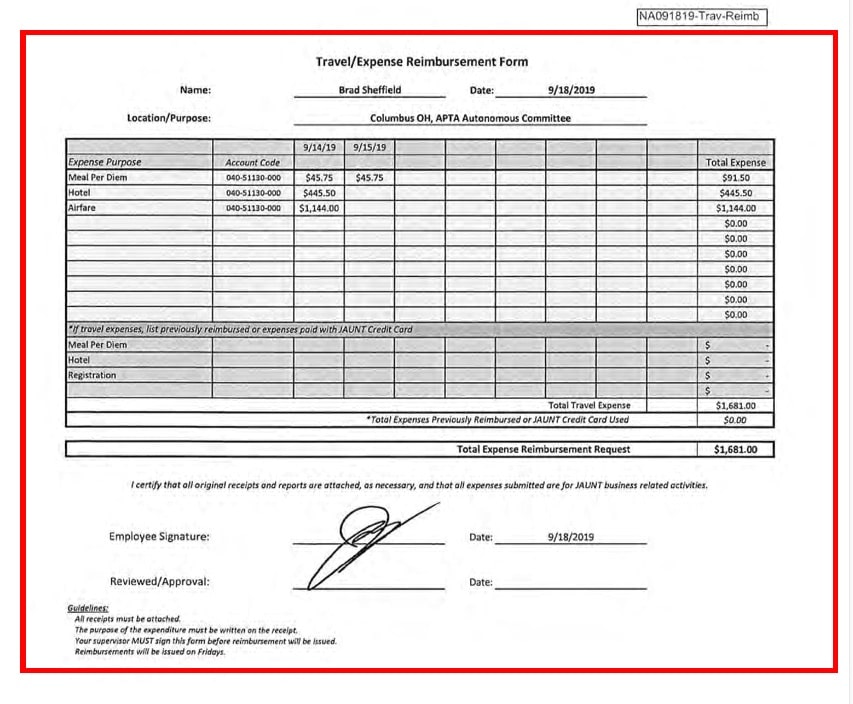 October 2019 saw Sheffield traveling to Paris, France for the Autonomous Summit at a total cost of$14,138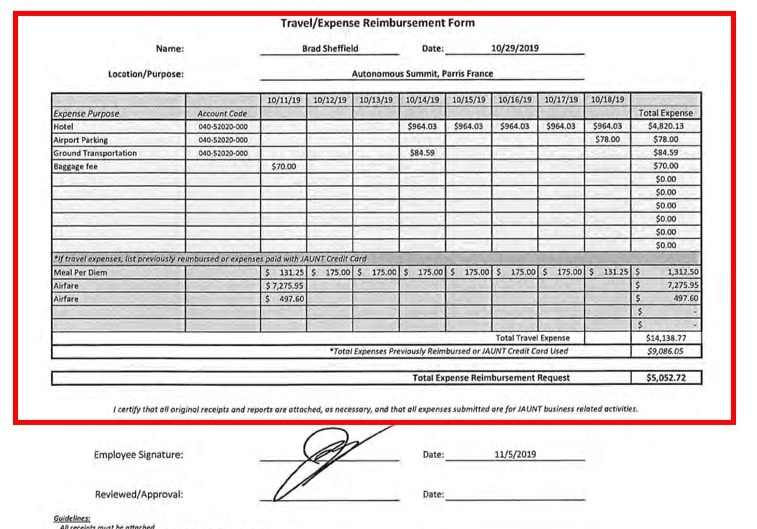 A January 2020 trip to Las Vegas included a dinner visit to the PA Steakhouse, which netted a bill of $2,280, including a $750 bottle of BT Opus One 14 wine and a $600 BT Cos Grow (presumably also wine).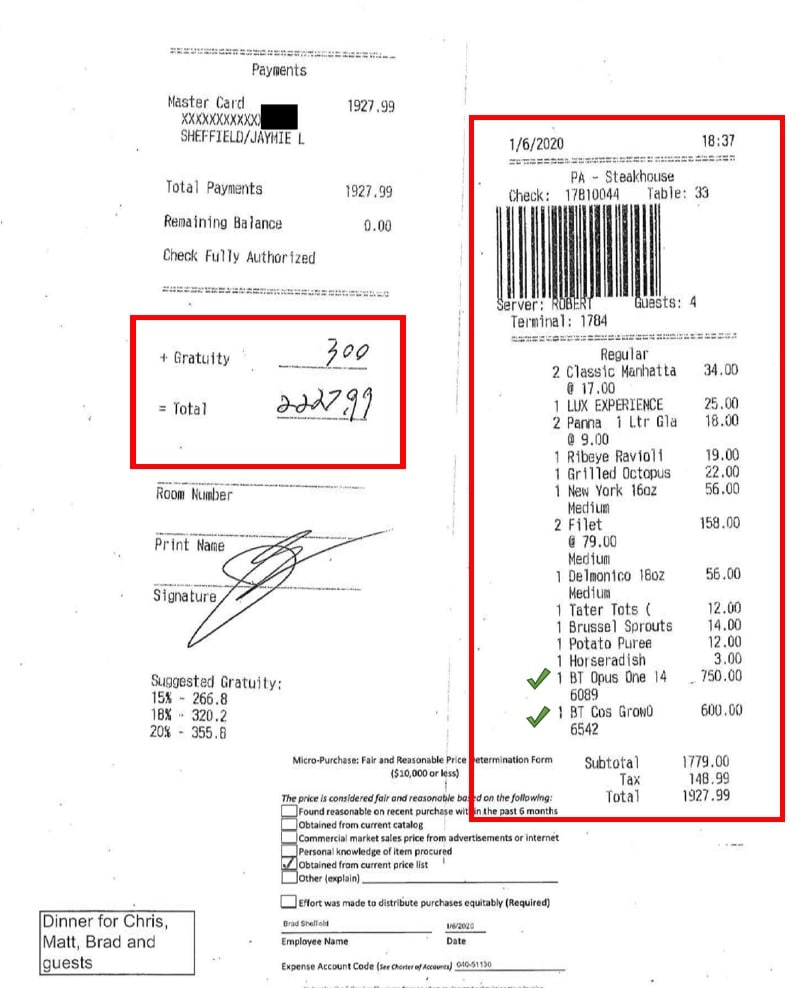 Sheffield's hotel bill for the Las Vegas junket (Aria Resort and Casino) was a stratospheric $11,149.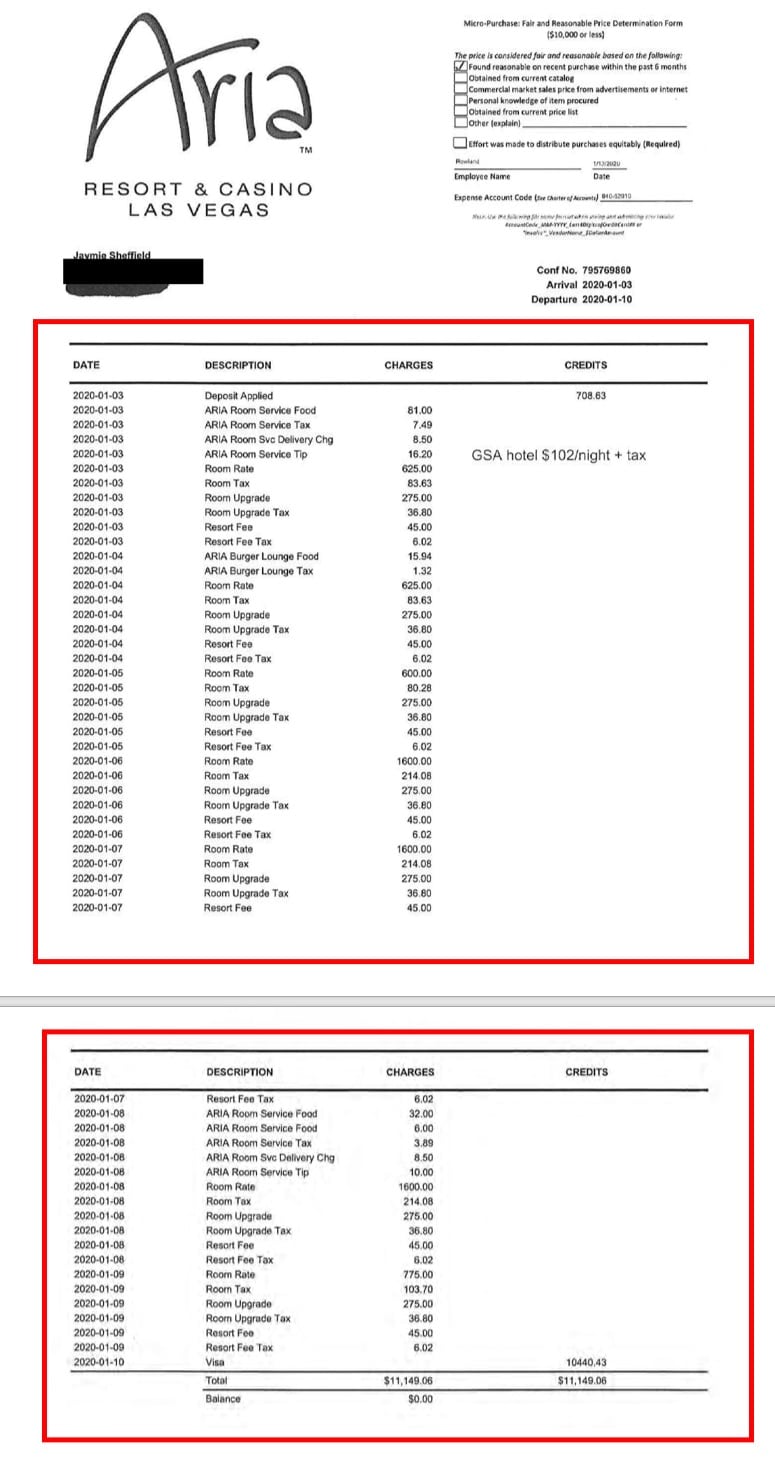 Later in January 2020 Sheffield enjoyed a five-day stay at The Langham, in Chicago. Room rates averaged over $1,100 per night for a total bill of $6,372.
Sheffield pre-booked travel to Paris, in January 2020, for a June trip to the European Mobility Conference. Total reimbursement request was $8,795.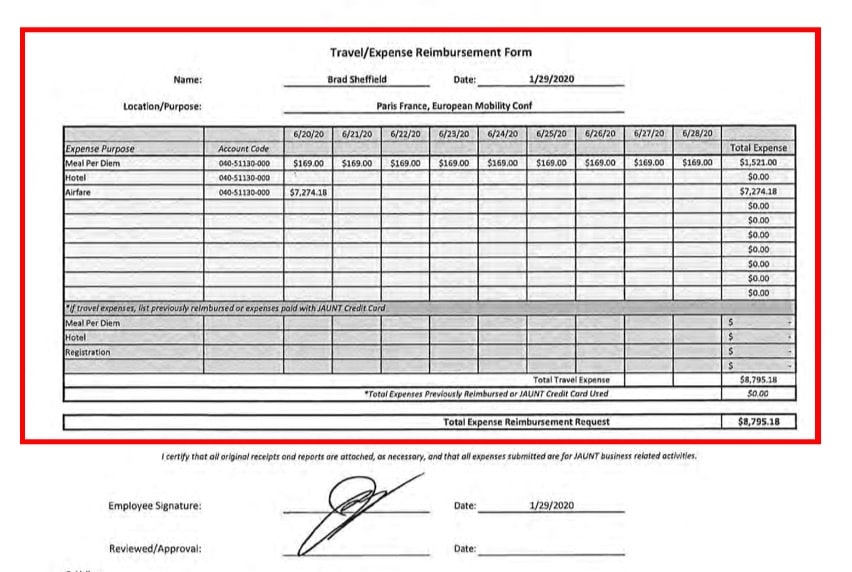 For a week-long trip to London, UK, for the MOVE Conference in February 2020 Sheffield submitted a hotel-reimbursement form for $9,346, showing a nightly room rate of $1,557. An additional reimbursement request was submitted for this trip, noting "Karen's Hotel" and a cost of $5,447.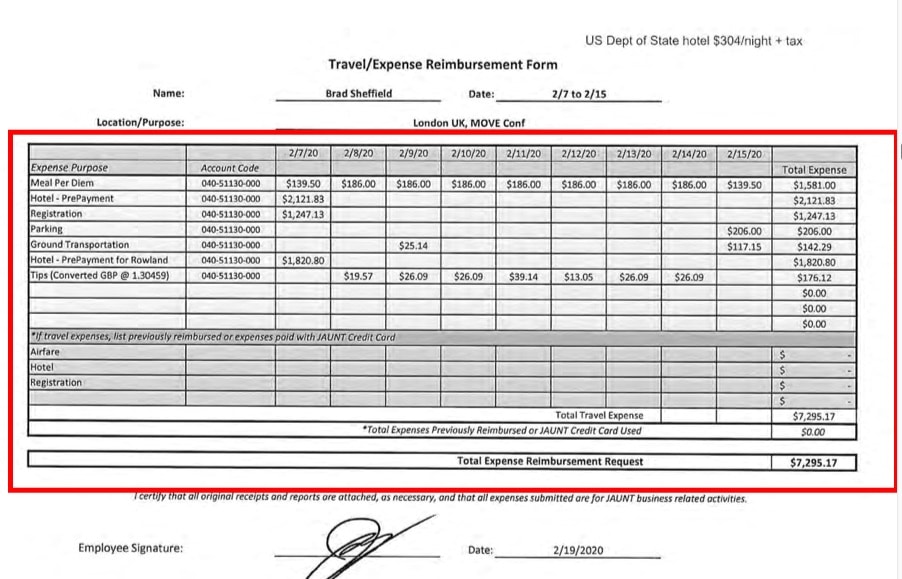 Sheffield again traveled to London (along with his wife, Christina), staying at The Langham hotel in November 2020. The submitted receipt for the hotel stay was $9,346.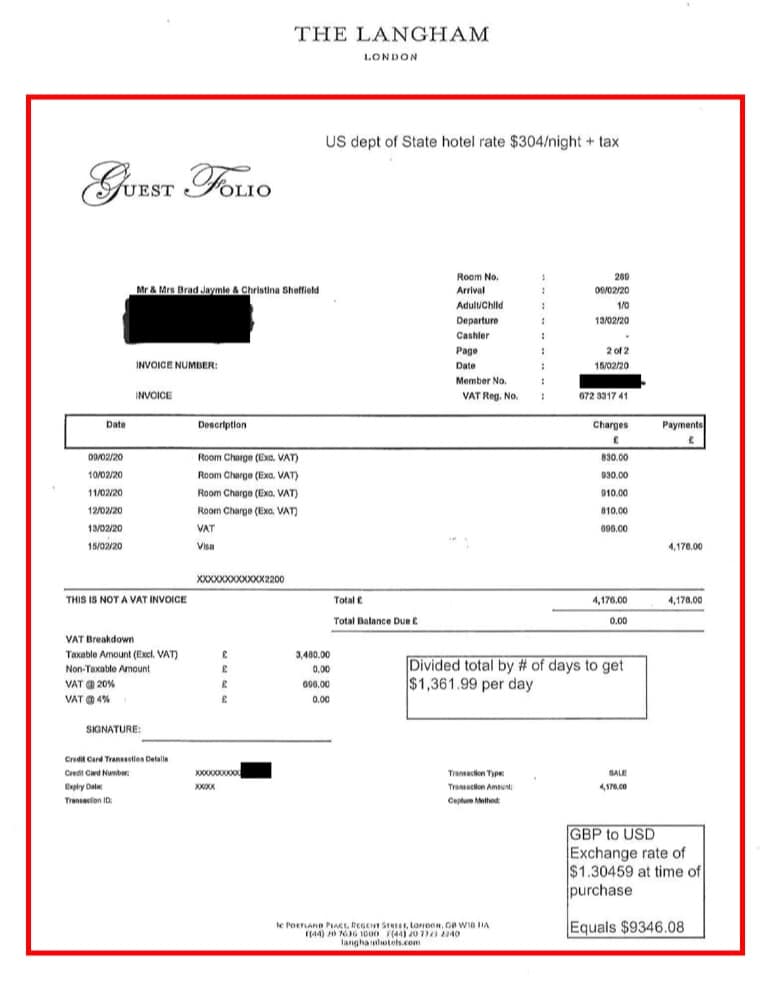 In addition to Brad Sheffield's largesse, JAUNT Chief Administrative Officer, Christopher Rowland and other JAUNT "brass" contributed generously to the bloated travel bottom-line, as indicated in the provided documents.
Much of the galavanting likely was superfluous, especially during the COVID lockdowns and in light of Zoom technology. Yet Sheffield persisted. Apparently the glamorous life was too rich to resist.
Given the breathtaking extravagance displayed by Sheffield and Co.'s opulent travel, it is no wonder that JAUNT, Inc., spent copiously on legal counsel in order to prevent the public dissemination of this information.
Thanks to the rational legal decision rendered by Judge Matthew Quatrara in Schilling v. JAUNT, Inc., the public has now seen what happens when no one is minding the store at quasi-governmental, taxpayer-funded agencies, like JAUNT.