by: Eric Franzen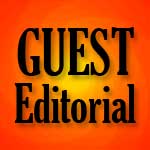 Full disclosure: I am not a scientist, a doctor, expert, or politician. For those who have blind faith in 'authorities' such as those, you can stop reading now.
I reside in the slice of the pie that does not have the ability to sign ideas into law. While I try my best to voice my concerns to those that do, at the end of the day I have to obey like a good little serf. I often have dreams of being one of the 'rulemakers', but they are frequently dashed as I am not an accomplished pontificator of political topics, and easily get talked down (or over) by those with a 'vast knowledge' of a particular subject.
I just react, often with anger to be honest. The powers that be never stop, continually pounding away at the populace, always in the opposite direction of liberty. In the name of public this, community that, planet this, global that; they can seemingly do anything. The latest: taxing your grocery bag.
Let's see how this is working out:
My wife went to Food Lion in Forest Lakes the other day, and she said they have signs stating that they are required to charge 5-cents per plastic bag, and that absolutely no one was getting plastic bags. She said there were piles of paper bags at each checkout.
"Ah ha!", they would say, "See, we succeeded! Less plastic in the landfill!" Yay planet!!
Call me an ignorant plebe, but as with most "solutions," were the consequences of this thought out?
I have seen the endless studies and, in my humble opinion, lopsided models of how man is causing climate change. As I've mentioned, I am no expert, but I think I have some common sense, and common sense says one would also study and model the effects of any given decision. Will someone please show me the studies and models for the following environmental and monetary costs of this most recent decree:
impact on paper industry
comparative fuel consumption for various bags from creation to disposal
impact on forestation
implementation and maintenance of said program
increased demand for household plastic garbage bags as those from grocery stores were re-used, often 100%
effects on plastic industry, jobs
displacement of tax base as many will shop in bag friendly counties
where is all this money going, and when that funding stream dries up due to the intent of limiting plastic bag use, what will replace it
It all reminds me of the electric vehicle brainwashing. I am not against electric vehicles by any means; but the raising of certain actions to deity status, while vilifying and outright banning others is utterly insane. The true environmental impacts of electric vehicle production and disposal are never mentioned, just that they are clean and good and that the combustible engine is dirty and bad.
To cut to the chase, I believe we are being fed propaganda to advance an agenda. We are not given the whole picture to make proper decisions for ourselves as individuals or private businesses.
The government is micro-managing more of our lives as each day passes. The wisdom of the market, which is simply the people freely engaging in commerce, is being undermined by all sorts of false and exaggerated claims of emergency.
Why is it always a ban? A tax? A mandate? There have to be some other ideas besides these. Hmmmm…
Offer some sort of recycling/collection reimbursement (like for cans/bottles) for plastic bags.
Incentives/tax breaks for stores who keep grounds clear of all plastic
Conduct objective study on incineration versus landfill disposal
Encourage development of alternative materials that could gradually and effectively replace the plastic
Those are just off the top of my head. Maybe none of those would work, who knows? I simply wonder if they brainstorm about these issues or just tax to save the dolphin? Given the make-up of our current county leadership, I would bet it's the latter.
We are pounded almost daily with groupthink fear mongering on the evils of 'fossil' fuel use. On the other hand, we are never shown the consequences of so-called alternatives. Take for example the Ivanpah solar thermal power plant in the Mohave Desert. An estimated 6,000 birds a year are incinerated in mid-flight due to the highly concentrated beams of heat. Approximately 50 million dollars have been spent in the relocation of a species of desert tortoise whose habitat has been upended by the project. Where are the pictures of exploding birds? Displaced wildlife? Nowhere, because it would harm the agenda.
Recently, and perhaps at the height of 'save the planet' hypocrisy, is what was forced upon us due to our response to Covid. The issues are endless, but in regards to the topic at hand, are the catastrophic amounts of waste that were generated. We just spent two plus years dumping more plastic on a global scale than can even be fathomed. The masks in the oceans alone are dumbfounding.
And yet here we are. The same powers that just got done trashing the planet in the name of health and safety, are now going to tax our grocery bags to, wait for it….. save the planet. This is hypocritical hubris of the highest degree.
Lastly, lest I forget, perhaps the biggest consequence to this latest tax is that we are no longer buying any groceries in Albemarle County. Greene County is fortunately close by and they get the bulk of my business for most things, food will now be among them.
In the end it's yet another example of politicians out of touch with the people. Instead of coming up with thoughtful solutions that consider long-term consequences, they just tax, hitting the poor among us most, and hope that yet another government program will save us from a made-up problem.
https://www.dumpsters.com/blog/plastic-bag-bans
https://greentumble.com/waste-incineration-advantages-and-disadvantages/#:~:text=Advantages%20of%20incineration%201%20%231%20Far%20more%20efficient,generation%20…%204%20%234%20Lower%20carbon%20footprint%20
https://www.latimes.com/local/california/la-me-solar-bird-deaths-20160831-snap-story.html
https://heartland.org/opinion/mojave-solar-project-killing-threatened-desert-tortoises