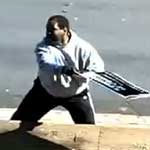 This just in…
An unidentified supporter of Democrat Tom Perriello erupts in violent outburst at the sight of Americans for Prosperity "November is Coming" signs. Note the "Perriello" sticker on the rear bumper of the offender's car.
This shocking footage was taken at Charlottesville's Lee Park on Friday, October 29, 2010 by videographer Kurt Feigel.
And it's claimed that the Tea Party is "racist"?
Warning: Video contains graphic language.
httpv://www.youtube.com/watch?v=UPIP-i3sdVk&feature=player_embedded%2523!