The noxious effects of racial profiling
By Dr. M. Rick Turner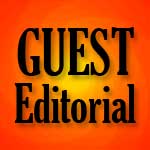 Thanks to the proliferation of social media and the motivation and concern of the black press, the biggest news story in the country on March 26 was the killing of unarmed 17-year-old Trayvon Martin by a self-appointed guardian of public safety on Feb. 26 in Sanford, Fla.
The NAACP and other civil and human rights organizations throughout the United States held massive protests to condemn this killing. New York Times columnist Charles Blow wrote during the week of the disclosure of Trayvon Martin's death, "Trayvon's death and the public outcry about the case … shined a harsh light on the plight of young black men in America and the shadow of suspicion that hangs over them. It has also renewed the debate about racial profiling — which is completely incongruous to any basic concept of fairness."
Stemming from this outcry over injustice, the Albemarle-Charlottesville Branch of the NAACP convened a town hall meeting on April 11 at First Baptist Church, where approximately 200 community members and representatives of the city, county and University of Virginia police departments met to discuss issues of urgency regarding police and community relations. The focus of the evening discussion was to open public dialogue and to re-examine and challenge the issue of racial profiling that — until the death of Trayvon Martin — had fallen out of the public mind.
Contrary to the belief of many Americans, racial profiling is inadequate policing. Extensive study done after racial profiling incidents on the New Jersey Turnpike shows that racial profiling is neither an efficient nor an effective tool for fighting crime.
At a 1999 conference in Washington, "Strengthening Police-Community Relationship," former President Bill Clinton called racial profiling a "morally indefensible, deeply corrosive practice." He added that "racial profiling is in fact the opposite of good police work, where actions are based on hard facts, not stereotypes. It is wrong, it is destructive, and it must be stopped."
Law professor and author David A. Harris states: "As a society, we look for equal justice under the law; instead, we get a concentrated focus on black and other people of color. We look for the Fourth Amendment to restrain police behavior; instead we have a free-for-all, unrestrained by the Constitution in any practical sense."
At our recent town meeting, in two hours of needed discussion, some community members related incidents regarding their experience being racially profiled on the street and in their homes. As the discussion continued, police department personnel seemed attentive and eager to participate in the dialogue. I came away from the discussion somewhat encouraged, but nevertheless still wondering how we can avoid a Trayvon Martin incident in Charlottesville.
One way is for the police to explicitly ban racial profiling and remove race from their policing. Professor David A. Harris, the author of "Profile in Injustice: Why Racial Profiling Cannot Work," states: "When we use race as a way to predict who might be a criminal, because we believe the statistics bear this out, a funny thing happens. The prophecy is fulfilled and the theory works. We arrest more blacks and Latinos, convict more blacks and Latinos. As we go round and round this circle, we never notice facts that lie just outside our vision. And we never ask ourselves questions … because we have the answers we need already."
According to many Charlottesville community residents, racial profiling is dangerous, damaging and humiliating; causes community antagonism, and in essence is an ineffective way to fight crime and apprehend criminals.
The police chief from Portland, Ore., recently said that "all of modern policing must confront a central issue as it moves into the 21st century, and that is not just to confront racial profiling; rather, it is to remove race from police decision making altogether."
Many African-American men and women that I have talked with in Charlottesville, Albemarle and the University of Virginia communities have made it clear that when stopped by the police, it is often the nature of the interaction with the police that they feel most deeply aggrieved about, not the stop itself. The way events unfold after the stop has everything to do with the perception they carry away from these encounters.
Racial profiling and the dubious tactics of many police impose substantial costs on innocent citizens of color, who as a result must bear the burden of public humiliation and personal degradation at a level unimaginable to whites. One University of Virginia student explained, "The problem began outside the classroom. As African-American students, once you're stopped outside the classroom, your humanity was attacked on a weekly, if not daily basis, while I was at UVa." Victims often feel emptiness due to the lack of a meaningful relationship between the police and members of the African-American community.
Many of us have followed the issue of racial profiling — especially since events in New Jersey in the 1990s where it was acknowledged that racial profiling was rampant on Interstate 95 by state troopers. One of the primary recommendations following this revelation was for police departments to have mandatory diversity training and other cultural-competency-building experiences that would help officers better understand the correct and civil ways to police all communities.
According to the National Black Police Association, diversity training is not enough, whether in university policing or in the general population. The organization further states that diversity training is not taken seriously enough, nor is it updated to adequately address profiling. It is concerned that too many officers and employees see this practice as an enforcement tool rather than a tool to assist them in becoming more racially sensitive.
For this reason, racial profiling must be confronted directly. A well-thought-out, intentional program must be put in place, not just as part of racial and cultural awareness, but as an issue of whether profiling is morally right and/or the best way to fight crime.
Limited time at our town hall meeting did not afford us the opportunity to discuss at length the issue of police accountability, but this does not negate its importance. We must be ever so diligent and persistent in seeing to it that the system of justice and the police in the city, county and the university are accountable. In a democracy, accountability is a bedrock principle for every organization and institution.
In Charlottesville and other places, there seem to be some questions regarding the transparency of data. I was happy to hear police officials from all of the departments recognize that any plan to address racial profiling must include an organized plan to collect data. The systematic collection of basic information on each and every encounter between police and citizens must happen. The importance of collecting data, including information on race and ethnicity, on traffic, pedestrian, and other police encounters, cannot be overestimated.
The stop-and-frisk policy in New York City has been highly criticized by the NAACP and Civil Liberties Union for its over-inclusiveness and noxious effects on blacks and Latinos. In 2011 it was found that the NYPD conducted 688,000 stop-and-frisks, with blacks and Latinos accounting for more than 86 percent of those targeted by police.
The form that police officers have the option to fill out after each confrontation is being questioned for its lack of emphasis on accountability of officers who draw complaints regarding their brash behavior.
A possible proposal of reform is being considered that would replicate the policy of stop-and-frisk in France, where racial profiling of immigrants is massive. The French proposal would require officers to issue receipts to those they stop that include their own identification. The logic behind this proposal is that officers might think twice about why they select certain people, and treat those they do stop with more respect. In Charlottesville and surrounding communities, police departments might want to consider this innovative approach to promote more accountability.
As it is, the stop-and-frisk policies in many areas are highly questioned because of blatant patterns of racial profiling and because most law enforcement agencies do not document or count the stops and searches unless they result in finding evidence. Consequently, we have very little information about the impact these policies have on innocent citizens.
The NAACP and other community organizations look forward to continuing this most important dialogue with police officials regarding ending discriminatory policing and improving police accountability in Charlottesville, Albemarle and at the University of Virginia.
M. Rick Turner is president of the Albemarle-Charlottesville NAACP.