The Schilling Show presents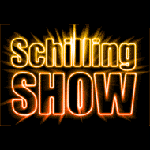 another masterful musical adaptation by interpretive audio artist Scott Bandy, aka The Blue Spade. This time, Bandy parodies Charlottesville City Councilor, Kathy Galvin, and her pretentious, know-it-all Green Architect persona.
Councilor Galvin is sung to the tune of the The Beatles' classic, Lady Madonna, with lyrics penned by The Blue Spade. This song was performed live on The Schilling Show on Wednesday, August 12, 2015.
Click below to listen to Councilor Galvin:
Councilor Galvin (in the style of The Beatles)
 by Scott Bandy

Councilor Galvin – greener by design
On the Organize Virginia team machine
What part is local sharing revenue
In lieu of spending for the city on your cue

Belmont Bridge remains on hold and waiting
The West Flats didn't turn out quite so fine
What's the next Corner Brou-ha unfolding

Smirk smart design

Councilor Galvin smarter by far best
Sustainable and Liveable stripped of contest

[BREAK]

Smirk smart design

Councilor Galvin stronger by adhere
Matters by the public ringing in your ear

Another change of Kuttner's via planning
Lee's statue's been spray painted again
William Taylor Plaza vote fast-tracking

Smirk smart design

Councilor Galvin – greener by design
On the Organize Virginia team machine