Charlottesville's reputation as a "World Class City" is long gone and unlikely to return.
Now internationally recognized as the "Capital of the Resistance" and a home for violent anarchists, Charlottesville is considered by many, a fallen city.
On the one-year anniversary weekend of the August 12, 2017 riots that shook his city, Charlottesville City Councilor Wes Bellamy ostensibly encouraged angry anarchists to take matters into their own hands. In an August 11 email released in his name and sent by The Collective Political Action Committee, Bellamy calls for the unlawful destruction or "tearing down" of Charlottesville's Robert E. Lee and Thomas "Stonewall" Jackson monuments: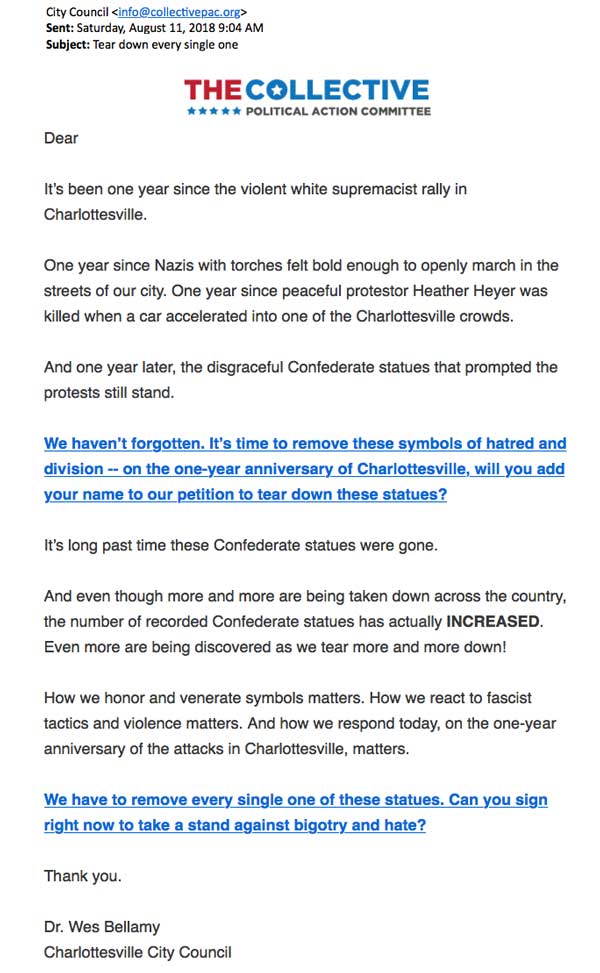 In addition to violating his oath of office—in which he swore to "support the Constitution"—Bellamy's email "spoofed" the sender as being "City Council" and used his Charlottesville "City Council" title without disclaiming that he was not "representing" the body, an apparent contradiction of established "Council Meeting Procedures" policy:
F 2. Members of the City Council, including the Mayor, shall represent the official policies or positions of the City Council to the best of their ability when designated as delegates for this purpose. When presenting their individual opinions and positions, Council members shall explicitly state they do not represent their body or the City, nor will they allow the inference that they do. No member of City Council may purport to speak on behalf of the City on matters that have not been voted on by Council or that do not represent official City policy unless authorized by the City Manager. [emphasis added]
Later that day, Councilor Bellamy reportedly interfered with an unlawful assembly declaration, issued by the Virginia State Police in order to quell a brewing riot. Bellamy's stand-down intervention was covered by WVIR-TV's Henry Graff and apparently shown only once, on that evening's 10 PM newscast. Although Graff's broadcast was not archived on the WVIR web site—as is protocol for most of their stories—it was obtained and can be seen below:
This, unfortunately, was not the first time Councilor Bellamy directly interfered with police officers in their efforts to enforce the law.
A continuing wave of public anarchy also was on display at the August 17 Charlottesville City Council meeting—the first regularly scheduled gathering of that body following 2018's "anniversary weekend."
During a discussion of the City Manager search process, the Council's conversation was interrupted by an audience member who approached the microphone to announce the toppling of Silent Sam, a North Carolina Civil War Monument. The speaker continued by publicly threatening that if City Council and the City Manager did not "tear down" Charlottesville's statues, "we will." See video below:
The speaker's remarks were received by some Councilors with tacitly sympathetic chuckles and joking. No councilor expressed concern over the explicit lawlessness of the threat itself.
"Dave," a frequent council critic, who appeared during the "Community Matters" portion of that same meeting, referred to Police Chief Dr. RaShall Brackney (a woman of color) as a "fascist," while calling for the disarming, defunding, and abolition of the Charlottesville Police Department, as shown in the following video:
While Charlottesville's government continues to spin wildly off-center, raucous public meetings and accompanying calls for social, economic, and legal anarchy come at great cost.
Most recently, local developer and perennial City Council ally, Keith O. Woodard, cancelled the long-planned $50 million West 2nd project, citing an "adversarial" relationship with the City and "uncertain" process. The development was expected to net Charlottesville nearly $1 million annually in direct tax revenue.
Adding insult to injury, Charlottesville City Councilor, Mike Signer, himself was General Counsel on the Project Team for WillowTree at Woolen Mills. In such capacity he presumably helped negotiate app developer WillowTree's exodus from Charlottesville into neighboring Albemarle County—a $20 million, 200-job boon for Albemarle's economy and another crushing financial blow to the City, this time delivered by a Charlottesville elected official.
Nine years on, the rusting hulk of the Landmark Hotel on Charlottesville's downtown mall stands as a monument to ineffective, bumbling, incompetent governance. The economic implications are manifest; no rational developer would risk large-scale "investing" here presently.
But the escalating social and civic anarchy promulgated by the current crop of councilors has impelled Charlottesville into a rapid downward spiral, wherein nothing much may be left to "tear down" when all is said and done.