In a shocking echo of historic Democrat racial segregation policy, a teacher at Fluvanna County's Carysbrook Elementary School has contemplated segregating "unmasked" students in her classroom.
When a fellow teacher from Northern Virginia suggested on Facebook that the Fluvanna teacher move "maskless" students to "the back of [the] room," the Fluvanna teacher replied:
[Name redacted] "I have thought of the 'mask segregation' idea and keeping the unmasked separate but I have the feeling it will be looked down upon and not allowed."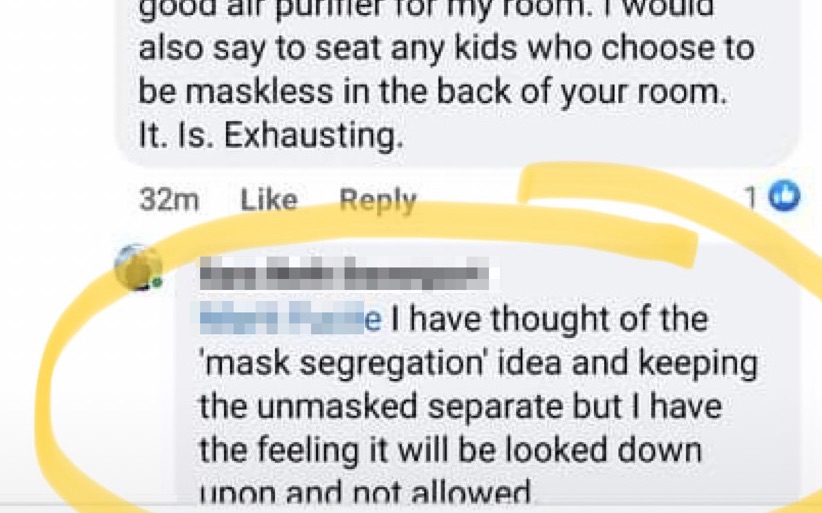 This online conversation was prompted by a brave, bare majority of the Fluvanna County School Board, who recently had lifted the dictatorial school mask mandate imposed by former Virginia governor Ralph Northam and his fellow Democrats in the Virginia General Assembly.
Fluvanna School Board members Andrew Pullen (Columbia District) and Charles Rittenhouse (Cunningham District) strongly supported mask freedom, while Chair Perrie Johnson (Fork Union District) conditionally favored the repeal. Voting against parental and student rights were Gequetta Murray Key (Rivanna District) and James Kelley (Palmyra District).
Incoming Virginia Governor, Republican Glenn Youngkin's Executive Order 2 dispelled the dangerous k-12 mask mandate by reaffirming parental rights immediately upon his inauguration. That action caused mass panic amongst the leftist Virginia education establishment—much of which has resisted compliance.