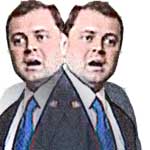 With embattled Democrats across America actively disassociating themselves from President Obama, Virginia 5th District Congressman Tom Perriello has been "graced" with an unexpected last-minute executive visit intended to resuscitate his faltering campaign.
The hallmark of two-faced Tom's re-election bid has been proclaimed "independence" from the President and Speaker Nancy Pelosi—particularly from their nationally toxic progressive agenda. In fact, the first radio commercial of this year's Perriello campaign sought to dispel the "myth" that Perriello votes in "lock step with 'Obama' and 'Pelosi.'"
Even Democrat City Councilor, Kristin Szakos—a stalwart supporter of both Perriello and Obama—recognized the inherent danger in linking Tom Perriello too closely to Barack Obama, as she suddenly displaced a long-standing "Obama" yard sign from her property before posting a "Perriello for Congress" sign in an adjacent location. (N.B. Szakos's ceramic Obama sign has returned to its place of honor just in time for the President's visit.)
Now, the President is coming to town in order to help Tom Perriello? And, after all of the effort by Perriello's people to distance these two birds of a feather?
With a recent Harris poll showing the President's approval rating hovering at an historic low of 37%, Obama's eleventh hour sojourn hardly can be welcome news to the boy Congressman and his panicked handlers.
But, how can you say "no" to the President? Well, you can't.
And that is precisely the problem for Tom Perriello. Contemplative independent voters who may have bought into Perriello's "autonomy" song and dance now should realize the fallacy of such a claim. Since the President personally has stumped for two-faced Tom, there is no chance that the congressman could ever refuse a request for support (read: a vote) from President Obama.
Despite months of strategic distancing, Congressman Tom Perriello forevermore will be inexorably and intimately linked with and beholden to President Barack Obama. While this Friday's Presidential soiree will play well to Charlottesville's progressive, government consumers, it also will drive the final nail into Tom Perriello's shovel-ready political coffin.