Jackson P Burley Middle School (JPBMS)—a public school in Albemarle County, Virginia—is hosting a black-only, catered dinner event.
Billed as "Dinner and Discussion; JPBMS Black Community," the evening's stated goal is to:
"Build stronger partnerships with our families to support deeper learning and positive identity development for our Black students."
Language used in an email communication from Burley Assistant Principal Russell Carlock (on behalf of equity-focused Principal Kasaundra Blount) clearly indicates that targeted invitees are "member[s] of the Black Community at JPBMS."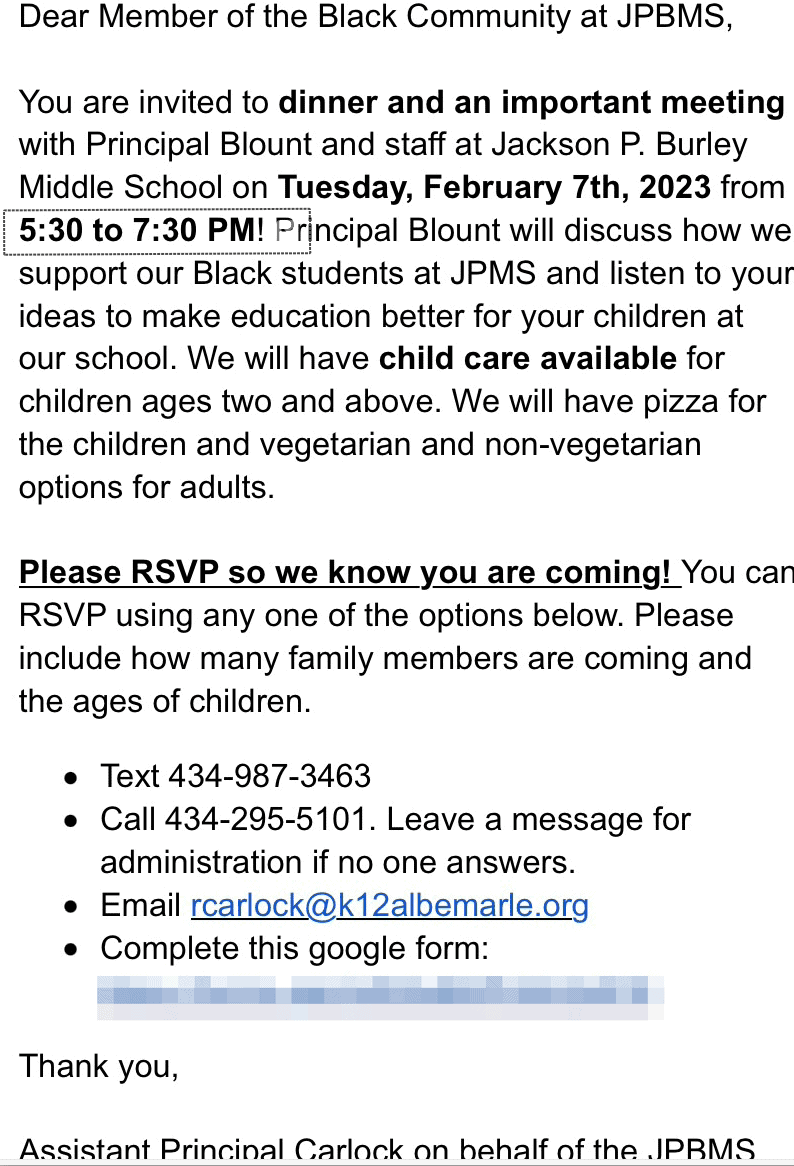 Through a follow-up email communique to "Burley Staff," Carlock informs his "Beloved Burley Educators" of the racially exclusive gathering and encourages their volunteering for or extending further invitations to the black-centric dinner meeting:
The online signup sheet—in a virtue-signaling nod to political correctness—informs responding families that they will be eating food provided by "local Black-owned businesses":
Discussion on Racial Identity Sign Up

To address the specific needs of Black students at JPBMS, we will offer a discussion for families to generate ideas and build partnerships to better support positive racial identity development and deeper learning for Black students. We invite you to come to JPBMS's cafeteria on Tuesday, February 7th from 5:30 to 7:30 PM to share a meal with JPBMS educators and discuss the needs of our Black students. We will include food catered from local Black-owned businesses. We will try to have child care for those who need it. Please RS indicate on this form if you need child care and the ages of the children. [emphasis added]
As Albemarle County Public Schools' (ACPS) superintendent, Matt Haas, and his minions on the Albemarle County School Board continue their push for greater "equity" in ACPS, the reality is that Haas et al. are mirroring the racial segregation and discriminatory environment of 1950s, Democrat-run Virginia—only this time, blacks are favored preferentially while others are deprecated.
Apparently, asian, white, hispanic, middle-eastern and "other" students' families need not apply for a seat at this discriminative Albemarle County Public Schools' catered dinner. Which leads to the question: From which other events or resources are those students and their families also being excluded?
Meet the new boss; same as the old boss.